What Mooresville Homeowners Need To Know About Tick Control
November 27, 2020
Ticks are not complicated pests: they hide out in nature, hitch rides on animals and people, and drink blood. What is complicated, however, is controlling these pests around a property. If you already know a bit about ticks but have no clue how to stop them from invading your home or property, we are here today to help. Here is everything you need to know about controlling ticks around Mooresville.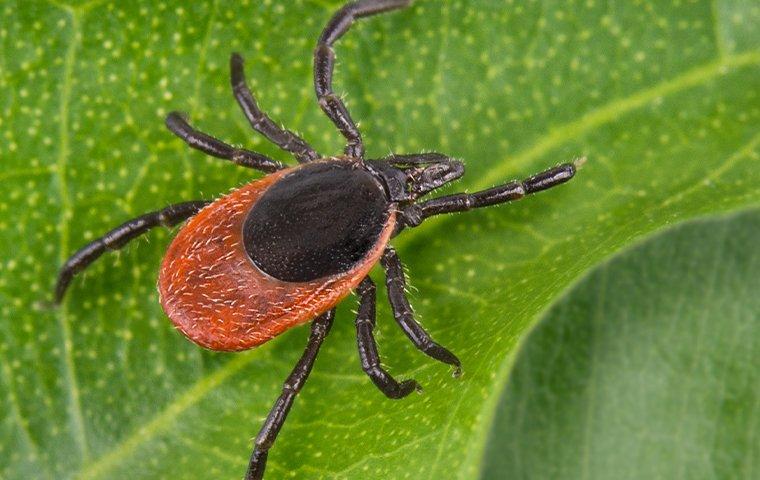 A Basic Description Of Ticks
You probably already know a bit about ticks, like the fact that they are parasitic pests that feed on blood to survive. When not engorged with a blood meal, a tick is identifiable by its eight legs, protruding mouthparts, and sometimes intricate color and markings.
When engorged with a blood meal, a tick grows to be upwards of five times its original size and takes on a deep red color.
How Ticks Feed
Ticks are not the most mobile pests, which can sometimes make getting onto a host difficult. How these pests usually get a bite to eat is by clinging to the tops of tall grass and waiting for prey to walk by. Ticks will also occasionally drop from higher up foliage or tree branches/leaves. Once aboard, these pests bury their heads beneath the skin and draw blood until they are full.
One thing you should know is that ticks are not like fleas in that they do not stay on their hosts after they finish feeding, but instead will find their way back to the ground. If a tick gets inside your home and off you, they are likely to hide and try to feed on you again in the future.
How To Prevent Ticks
There are many different ways to prevent ticks. There is population control, exclusion methods to seal your home's exterior, and general deterrents for animals that might carry ticks onto your property or into your home. To accomplish these measures, here are some great steps to use in and around your Mooresville property:
Install a fence around your yard and garden.

Store firewood and lumber at least 30 feet away from your home's exterior.

Remove leaf piles, sticks, and other debris from your yard.

Pick up fruit as it falls from trees into your yard.

Mow your lawn at least once a week and more often during times of heavy rainfall.

Keep your bushes, trees, and other greenery well-trimmed.

Make sure your trash cans have tight-fitting lids.

Use a caulking gun to fill in foundational holes, gaps, and cracks.

Repair damage to window/door screens and door sweeps.

Keep your home as clean as possible.

Store leftover foods inside airtight containers.

Invest in high-quality flea and tick collars for your outdoor pets.
An Even Better Way To Prevent Ticks
Ticks are not just annoying pests, they are also dangerous. For this reason, we recommend taking a more effective approach when preventing these pests around your property, and the most effective approach is hiring a professional.
At Lake Norman Pest Control, we have the skillset and industrial-grade equipment needed to effectively eliminate and prevent pests like ticks. Why should you pick us over our competitors? Well, not only are we top-rated by Home Advisor, but we are also fully accredited by the Better Business Bureau, and a proud winner of an Angie's Super Service Award.
Reach out to our team today for any questions about our comprehensive pest control plans and find one that best suits you and your home's individual needs.
Previous
Next