Are you looking for Christmas light installation near you? No problem! Our company can help you with this year's Christmas light installation projects! Our team of decorators and light hangers will design and hang your Christmas lights to your liking and specifications.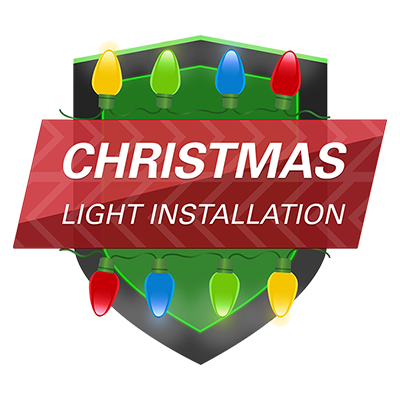 The Christmas season is here and we can just imagine the busy days ahead of us. It all starts in preparing our houses for the holidays and yearly gatherings with your loved ones and friends. For many people, the Christmas Spirit is something that should be felt everywhere when it comes to this particular holiday season. It is as though almost everybody is celebrating it and that no place, street, or house should be left untouched by this wonderful time of the year.
You'll see houses beginning to be decorated, repaired, polished, and prepped for the holiday gatherings with friends, colleagues, and relatives. Christmas trees are being brought out of storage rooms and garages, decorations are being put up for display, and Christmas lights are being installed on rooftops, door frames, and yard trees once again.
As much as everybody values the enthusiasm of people really going out of their ways to decorate and design their houses for the festive seasons, it is still in everyone's best interest to be safe in this time of the year. This is why we have created a list for you of how you can install your Christmas lights easily and with the help of the services offered near you.
First off, set up your equipment and materials
Before you go doze into the crazy world of setting up everything you see from your cabinets, give time to set up everything that you plan on using for your house. Separate those items that are intended to be used indoors from those that are supposed to be used outdoors. Once you've done this, make sure to check on your materials state. Some wires might need fixing, bulbs might need repair so take time in doing this but see to it that you give just enough time to check these. After you've set up the displays, simply prepare your stepladders and other equipment for setting up the Christmas lights. Lean the ladders on the gutters and get it near as possible to the rooftops.
Second, hang the lights in safe areas
While your goal is to place the lights where it will most complement your house, make sure you do this as safely as possible and without the job of having to trim down bushes or marring your house paint and walls. Attach your Christmas lights along the roof edges and use plastic clips so that It'll not give you any complicated effect when the electricity is hit open for the wires.
Call Today For Professional Assistance
As much as you want to do these things with your family alone, it doesn't really pay much to call in some experts to do it for you. We specialize in keeping homes and yards safe, which is why we are the perfect team to do these things for you. We have the finest equipment that are sure to reach parts of your house that seem unreachable with your basic equipment. So what are you waiting for? Call our nearest branch now to help you with your Christmas light installation!