Bed Bug Exterminator Near Denver, NC
Do you think you have bed bugs in your Denver, NC home? Lake Norman Pest Control can help get rid of them for you so you can get back to sleep. Bed bugs can get out of control quickly if not handled by a professional.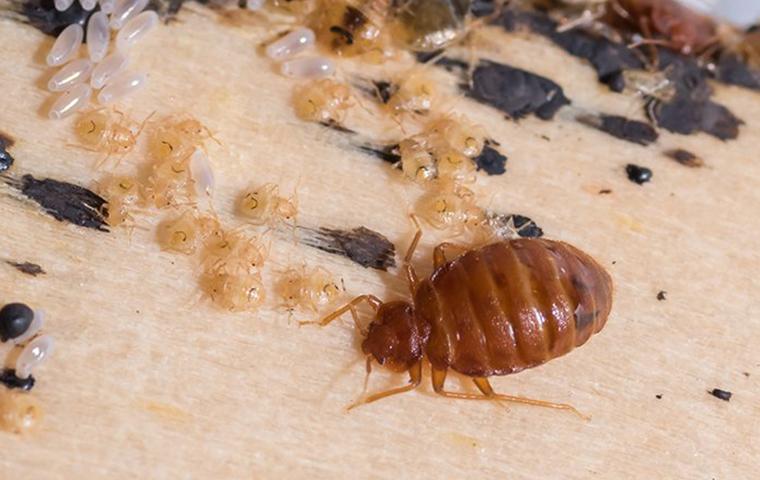 Local Pest Control Near Me
We have been in business for over 50 years and know how to handle a bed bug problem. We will not only target the areas you are concerned with but will make sure the bed bugs aren't hiding anywhere else in your home. Our technicians are trained extensively to locate the bed bugs in your home and remove them fast.
Since we are a locally owned and operated company we make sure our customers are taken care of or their money back. Give us a call today or use the form below to request a free quote on your bed bug control now.
Pest Control For Bed Bugs
Bed bugs are traveling pests and will most likely end up at your house after you travel and come from a hotel. They can attach to your clothes and luggage, and even you. It is important to call your local exterminator if you suspect you have these bugs because they can reproduce quickly.
They usually find their home on your mattress or headboard. Some bed bugs can be found on bedside tables and even the walls. They are nocturnal which is why they are biting you while you're asleep. They bite their hosts and drink their blood to survive. They can go several weeks without feeding, so if you think they are gone they may just be waiting to come out for more food. They are attracted to exposed skin like your arms, neck, and hands. They prefer a warm environment which is why they are usually in your bed. Many people have found them on their couches and car seats too.
If your friend or relative has bed bugs they could travel on you and start to infest your home. They are hard to see before they start feeding on a host because they are translucent. they start to retain color when they drink blood from their hosts. Home remedies don't usually work on bed bugs which is why it is important to hire a local professional exterminator.
Lake Norman Bed Bug Control
Bed bugs can't be controlled on your own and require a treatment plan. Lake Norman Pest Control will make sure your situation has the best plan for you to get the bed bugs out of your home. Give us a call today if you have any questions or to request a free quote on your bed bug extermination.
Our Reviews
Our customers value the pest control services we provide for them. We make sure each of our customers are taken care of and their bugs are gone for good. Check out our reviews and see if Lake Norman Pest Control can help with your bed bug control in Denver, NC now.
Other Pest Control Services For Denver, NC