Natural Fruit Fly Control
From time to time fruit flies somehow get into your home and infest the fresh fruit you have just picked up from the store or farmers market. They are not only annoying but are disgusting to have on your food. Having fruit flies can also cause illnesses due to the bacteria they bring. Letting them infest any property can cause inconveniences. Before they get you, better get them first by performing natural pest control for fruit flies. Check out some of these home remedies to get rid of fruit flies and be able to enjoy your food again.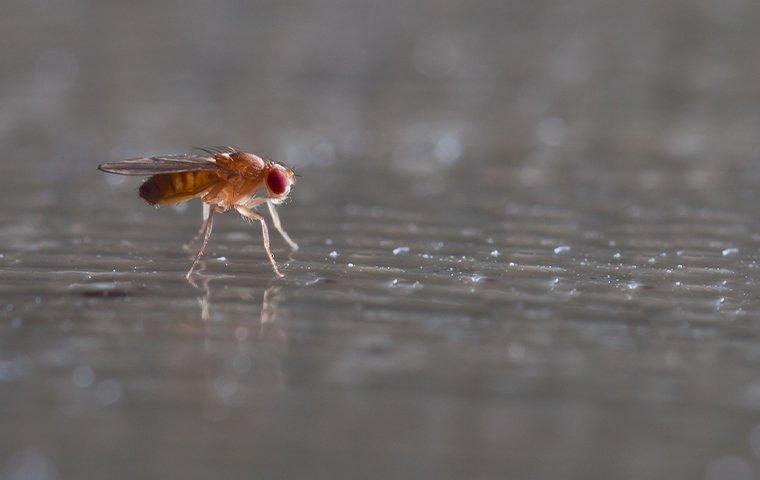 Apple Cider Vinegar
For some reason, fruit flies can't resist the smell of vinegar. Even though it may smell good to some people, most people can't stand the smell. By getting a bottle of apple cider vinegar to pour some in a small dish and set it out around your kitchen or where you might be experiencing fruit flies. Mix a little dish soap in it so the fruit flies will get stuck in the mixture and drown.
Another way to set an apple cider vinegar trap is to pour it into a container. The opening can be covered with plastic and put a rubber band around. After, make small holes on the cover which can entice the fruit flies. They can never resist the smell of vinegar.
Red Wine
After you finish, a bottle of red wine keeps just a little in the bottom of the bottle. Fruit flies love red wine, and this will attract them to go into the container. They will get stuck inside because of the skinny neck of the bottle then you can trap them in it. It helps to stick the bottle or bottles around areas that fruit flies seem to be living in your home. This will help to get them out of your house quickly.
If you have red wines at home at the same time fruit flies are around, make use of those wine to eliminate the pest. You just didn't enjoy some wine, but you were also able to resolve your problem in a simple way.
Mason Jar
Over the years, people have developed this mechanism on how to trap the fruit flies in a mason jar. You simply get a mason jar and take the top off of it. You place a ripe piece of fruit that is almost rotten in it. You then put a piece of plastic over the top and tape it around the jar or get it to stick to the top somehow. You need to poke small holes in the top that will allow fruit flies to get through it. The piece of fruit will attract the fruit flies into the jar, but the plastic will not allow them to exit it. This will enable them to be exterminated from your kitchen. Your mason jars at home are for nothing if you have fruit flies. These jars can help you get rid of those flies for good if you just make use of them properly.
Clean House
One of the easiest ways to keep fruit flies out of your home is by keeping it clean. People leave out fruit on their counters in bowls or hang their bananas up. This is fine until the fruit gets a little too ripe and start to attract more fruit flies. The flies will smell the sweet smell and enter your home through windows or open doors. It is best to make sure you either toss or eat the ripe fruit that is on your countertop.
You can even store most of your fruit in the fridge which will protect it from getting infested by fruit flies. There are also individual fruit containers you can buy at the store that allows you to keep your fruit on your counter but protect it from fruit flies and other pests. If you wipe off your countertops daily, then you will be less likely to have fruit flies in your home. Pests like dirty areas, so if you keep your house clean, you won't have as many.
A regular garbage disposal can help in getting rid of fruit flies for good. Whenever you clean, don't forget to throw your garbage away as it can be one of the reasons why those pests are lurking around your property. Also, doing this can help minimize the number of rotting food inside your houses where flies feast. Another one is putting of dried basil leaves on fruit baskets since flies hate the smell of it. With basil leaves around your fruits, there will be no flies around.
Fly Swatter
Using an old-fashion way will never do any harm and fly swatters are the one you need. This household item is the most basic solution which you can use for flies like fruit flies. You only have to swat those pests with force and make sure that the holes on the swat are smaller to prevent them from flying away. The fly swatter is the one you can use if you want some physical actions in eliminating fruit flies.
Water With Soap
Water with soap can help in resolving your fruit fly problems. Mix water and drops of liquid soap and place it during the night under a light. This trap can attract not only fruit flies but also mosquitoes which have been infesting your home. The reflection of the light on the soapy water is the one that entices the pests. Once they landed on the trap, it will be hard for them to escape as the soap creates tension on the surface. If you have liquid soap at home, better make it useful for pest elimination.
Boiling Water With Vinegar
Fruit flies will find their home in any property and drains are one of their targets. The flies will build their nest in drains which is harder to place bait. If you want to get rid of those fruit flies, pour hot boiling water on the drains in your bathroom and kitchen sinks. Doing this, it will kill those fruit flies and will prevent them from growing in number. Also, if you want to stop those fruit flies from breeding on your drains, better remove the debris and hair in the drains.
Fruit Fly Sprays
If you want to use sprays for fruit fly elimination, then you can create one by using alcohol. A 91% rubbing alcohol can quickly kill those flies and drench them even the eggs. The disinfectant has a high chance of eliminating those pests and is cheaper than others. Instead of using pesticides or insecticides, rubbing alcohol can serve as an alternative. Another one is Clorox. You can use this cleaning spray to get rid of those flies. Spray the liquid on the surface and afterward, wipe it including the dead fruit flies. Once you sprayed the Clorox, don't forget to open your windows or ventilate since the smell can be overwhelming.
Professional Pest Control Company
If these home remedies don't work for you and you still need help give your local pest exterminator a call. They can take care of any pest need you may have. A professional exterminator can resolve your fruit fly problems instantly as they know what to do whenever pests are around. But, if you need a trusted and skilled exterminator in town, Lake Norman Pest Control is the on to call.
Lake Norman Pest Control is your go-to company when pest control is the matter. They can eliminate different pests, insects, and bugs such as fruit flies, cockroaches, ants, fleas, and bed bugs. The company knows what fruit flies can do; that's why they are always ready to eliminate those pests once you call them. Lake Norman Pest Control ensures that safe treatments and methods are used which are friendly to humans and pets. They don't want to put their customers in any danger that's why they see to it that they follow the right protocols always to keep you in good hands.
The company never forgets to put enormous efforts into performing their crafts since they only want to give satisfying results which you cannot easily find from others. From inspection down to the treatments, everything is delivered in high quality. The company can also provide follow-up visits to double check if the fruit flies and other pests are indeed gone for good.
Whenever fruit flies, insects, bugs, or pests are around your property, the best way is to call a local exterminator near you - that's Lake Norman Pest Control. They will quickly come to your property when you need professional help in controlling and exterminating pests. Rest assured that when they perform pest control services, the results will give you peace of mind and will make your property a pest-free one. If you need a reliable exterminator in town, Lake Norman Pest Control is the one you need. Call them at (704) 663-6440, and they will be happy to serve you wherever you are!