Bed Bug Exterminator Near Mooresville, NC
Do you have bed bugs in your Mooresville, NC home? Lake Norman Pest Control can help get rid of them for you so you can get back to sleep. Bed bugs can disrupt the most important thing to your health, so it is important to get them exterminated.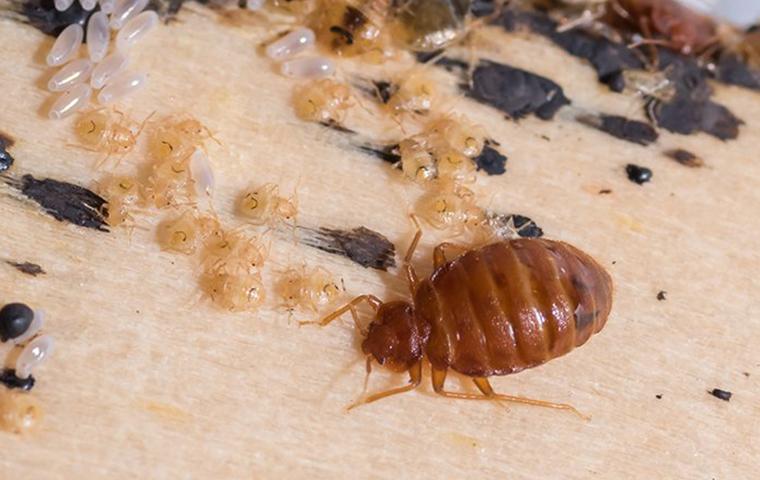 Pest Control Near Me
Our technicians have been trained to look for bed bugs around your home rather than just focusing on the areas you are concerned with. They have a lot of experience in knowing where the bed bugs like to hide and will make sure they are exterminated from your home.
Since we are a locally owned business we will make sure each customer is happy with their pest control treatments guaranteed. Give us a call today to get a free quote on your bed bug control now.
Pest Control For Bed Bugs
Most people get bed bugs after they have returned from vacation or staying in a hotel room. These bugs love to travel so when you get home from a trip make sure you check your luggage and clothes before unpacking. It is wise to wash everything you took with you to ensure that the bed bugs aren't coming home with you. If you suspect you have bed bugs it is wise to call your local pest control company to come and inspect your home.
Once the population starts to reproduce it is hard to control on your own and exterminate all of them. Bed bugs appear transparent before they suck your blood which is why it is hard to spot them before they start biting you. They mostly like to hide in your mattress and box spring because of the warm temperature, but they are sometimes found in other places. They like to hide on bedside tables, headboards, and even the walls of your bedroom. They can even show up on your couches and in your cars. If you think they have gone away on their own, think again. They can go several weeks without feeding on a host and just hide until they are ready to come out again. They are hard to get rid of on your own so it is wise to let a professional exterminator come to your house to help.
Lake Norman Bed Bug Control
Lake Norman Pest Control can help with any pest control services you may need. They will help get rid of your bed bugs in a series of treatments to make sure the pests are gone for good. If you have any questions give us a call today. Reach out and get a free quote on your bed bug control now.
Our Reviews
We have been in business for over 50 years and know how to handle any pest situation. We make sure our customers are happy with our services or their money back. Check out some of our reviews and see if Lake Norman Pest Control can help with your bed bug extermination in Mooresville, NC today.
Other Pest Control Services For Mooresville, NC