Lake Norman Pest Control: A Family Business
Even before joining forces with Go-Forth Pest Control in 2011, Lake Norman Pest Control was a mainstay in the Mooresville community.
Sam and Fran Newman, both Lake Norman residents, founded Lake Norman Pest Control more than 30 years ago. Offering decades of experience in the pest control industry, the Newmans and their company were well-respected as one of the state's leading pest control providers.
In 2011, when the Newmans decided to retire, they made the choice to merge their company with Go-Forth Pest & Lawn.
As friends of the Hazelwood family, the owners of this pest control company in High Point, NC, the Newmans felt confident that Go-Forth Pest & Lawn would continue to represent their commitment to professional customer service and high-quality pest control provision.
Our Mission
Lake Norman Pest Control is people-focused in all we do and holding ourselves accountable to the highest standards of service and professionalism, we will foster the growth of our team and our business. We will be a modern, innovative industry leader with the personal touch of a local, family-owned company.
Over the years, we've boiled down our mission to a core set of values:
Over the years, we've boiled down our mission to a core set of values:
Aim For Delight
We say yes to customers and each other. We love to serve.
Be Professional
Be an elite professional that customers and employees want to work with. Take pride in how you appear and act. Be on time, attentive and enthusiastic.
Fight For Simplicity
Keep it simple and consistent. Focus on how things should be done every time.
Own It
Own the entire process through the final outcome. Your customers and teammates rely on you to follow through on all the details.
Show Grit
Overcome obstacles and persevere with passion.
Grow!
Growth is our purpose. Growing as people & growing our business.
Dennis Foster: 2009 & 2013 NC Technician of the Year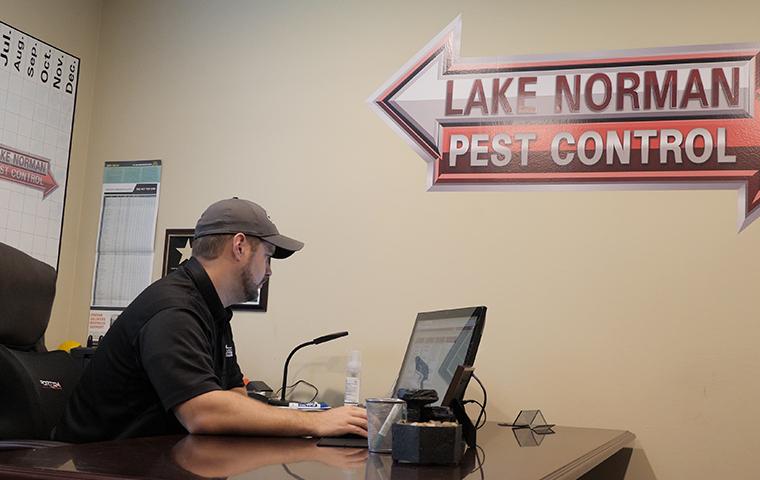 The only 2-time technician of the year, EVER.
At Lake Norman Pest Control, we take pride in our employees and the services they provide.
One of our team members, Dennis Foster, was named the North Carolina Technician of the Year by the NC Pest Management Association in 2009 & 2013.
Dennis is the regional manager of Lake Norman Pest Control and has experience in both our Pest Control Department and WDO Department.
As a certified applicator, he has extensive training on the identification and management of termites and many other pests. Dennis lives in Mooresville, NC with his family.