Commercial Christmas Light Installation
We offer commercial Christmas light installation for the Lake Norman/Mooresville area and beyond; we service near Cornelius, Davidson, Statesville, Denver, Troutman, and Huntersville, NC. Enhance the look of your business this holiday season and attract more customers.
Professional Christmas Light Installation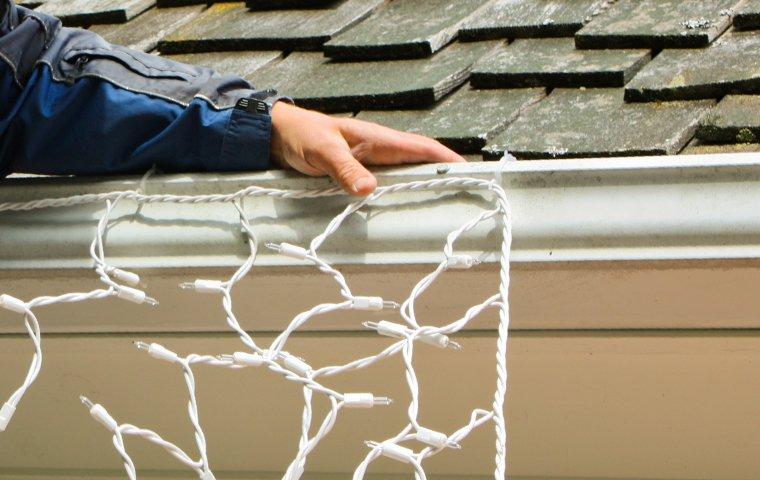 We use professional Christmas lights for all our installations. Our lights can withstand snow, wind, harsh sunny days, you name it. Our commercial-grade lights are beautiful to look at and are also super energy efficient.
We're Your Local Christmas Light Installers
Our crew of Christmas light installers are local and live in your area. If you have any issues with our light setup, just give us a call we'll be there in no time. However, this rarely happens since our lights are often checked for performance. We always make sure our lighting works the way it's supposed to.
Well-Reviewed Christmas Light Hanging Service
We're a well-reviewed Christmas light hanging service. Feel free to google us or look us up on social media. We always aim to provide an exceptional service each and every time, and our reviews reflect that. We have amazing reviews left by local customers like you!
Fully Insured Christmas Light Hangers
Our Christmas light hangers are fully insured, so don't worry about lawsuits of any kind. If any accidents happen to our light installers, our company will take care of it, so you have nothing to worry about.
Professional Outdoor Holiday Lighting Company
Our parent company Go-Forth has been in business since 1959, and later added the outdoor holiday lighting service. To this day, we have made sure our company behaves professionally towards our customers. We offer both residential and commercial outdoor holiday lighting and decoration services, using the latest LED lights on the market. We're local to the Mooresville/Lake Norman area, our reviews are amazing, and we are a trustful, fully insured company. Let a professional outdoor holiday lighting company help you with your Christmas light installation needs this holiday season!
The holidays can be a pivotal time of year for your business, and the right holiday decor can play a big role in your success. Attract customers to your restaurant or shop during this busy season by calling on the commercial Christmas light installation experts at Lake Norman Pest Control!
Lake Norman Pest Control is proud to offer Lake Norman, NC Christmas light installation services for commercial facilities of all types. From elaborate winter wonderlands on the facade of your business to more simple displays, we have the experience and expertise to help you create a holiday lighting display your business can be proud of.
We install Christmas lights for the following:
Outdoor trees

Greenery

Rooflines

Windows

Ground

Specialty decorations
Take a look at our Holiday Light Demo to see just how our commercial holiday lighting installation services can benefit your business in Lake Norman, Mooresville, Concord, and the surrounding areas this holiday season!


Examples Of Lake Norman Commercial Lighting
We Also Serve The Winston-Salem/Greensboro Area
If you're in need of commercial Christmas light installation services in Winston-Salem/Greensboro, you're in luck, our holiday light installation parent company Go-Forth will be happy to help you in decorating and hanging lights for your Piedmont Triad business.
Christmas Light Decorations And Lighting Brings More Customers
A well lit and decorated building has the effect of bringing in more customers. Feel free to ask for a quote today!