Mosquito Exterminator Near Troutman, NC
Want to enjoy the outdoors without being bugged by pesky mosquitoes? Lake Norman Pest Control can help in the Troutman, NC area to help you get rid of them for good. Mosquitoes are not only annoying but can spread different diseases to you and your loved ones.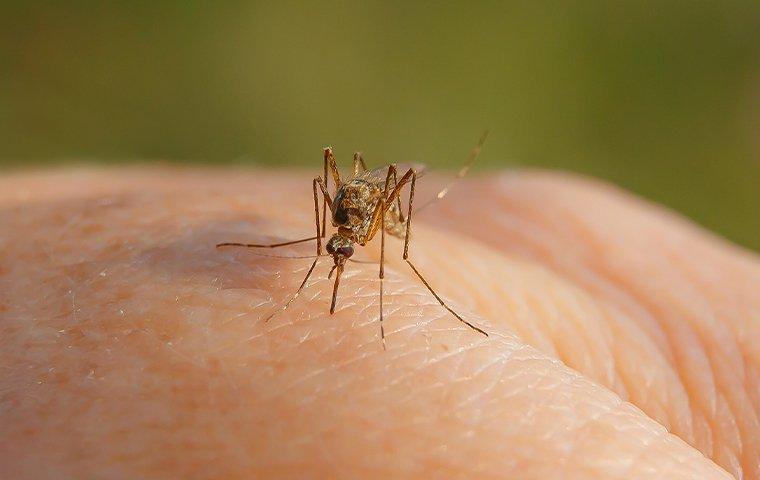 Local Pest Control Company
Our company uses a special chemical blower to make sure your entire property is covered and protected from mosquitoes. Not every company uses this technique and we have found it to be the most effective when controlling a mosquito population. We train our technicians to know where mosquitoes like to hide and how to effectively exterminate them.
We are a locally owned pest control company and will make sure each customer is happy with our services. Give us a call today or use the form below to request a free quote on your mosquito control now.
Pest Control For Mosquitoes
If you live near a body of water, large or small, you will probably see more mosquitoes on your property than normal. Mosquitoes love to breed in wet areas. Even if you have standing water in your back yard after a big storm, you may experience an increase in mosquitoes. If you start to notice more mosquitoes than normal it is important to call your local exterminator today.
Even though they are mostly outside, mosquitoes can sneak inside your home if a door is left open too long or if a window is cracked. If they are able to get inside they can feed on you whenever they please. Mosquitoes don't have any teeth but rather use a needle-like nose to suck the blood out of their hosts. They are not picky about who they will feed off of so they can go from animals to humans. This means they can transmit diseases from animals and humans as they are feeding on them. They have been known to spread different illnesses and diseases like Dengue, Yellow fever, and Zika virus.
Mosquitoes are more harmful than people think. Even though they only leave behind a red, itchy bump they can cause a lot of harm to you and your family. In order to avoid problems with these bugs, you can call a professional pest control company to help you exterminate them from your property.
Lake Norman Mosquito Control
Lake Norman Pest Control can help you get rid of your mosquito population fast. We have different service options that you can choose from for mosquitoes and we will make sure you receive the right one for your pest problem. Give us a call today or click to get a free quote on your mosquito control now.
Our Reviews
Our customers value the work we do for them and we value our customers. We will make sure you are satisfied with our pest control services or receive your money back. Check out our reviews and see if Lake Norman Pest Control can help with your mosquito control in Troutman, NC today.
Other Pest Control Services For Troutman, NC