What Mooresville Property Owners Need To Know About Termite Swarmers
March 30, 2022
Notice termite swarmers around your property? Looking for a termite expert near you? Lake Norman Pest Control offers termite removal for Mooresville homes. We can help! Whether active termites are present or homeowners need to understand the extent of a termite problem, termites are no match for the precision of our technicians.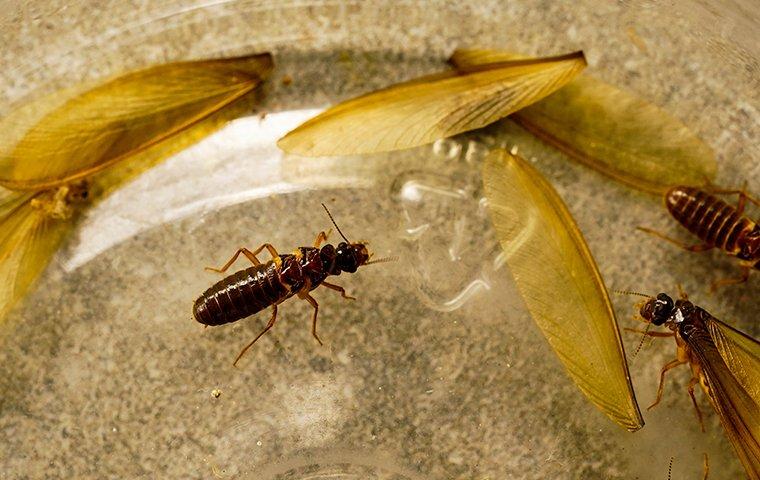 What Are Termite Swarmers In Mooresville?
Want to know if there are termite swarmers around your property? It can be helpful first to address what this type of pest is. Winged adult termites that fly are called swarmers. Seen mainly during the day, these swarmers can be seen indoors near windowsills and doorways and outdoors near a woodpile or large tree stump. Observing these colony members tips off homeowners that there could be a termite problem on the property.
What To Do If You Spot Termite Swarmers On Your Mooresville Property
Think you might have swarmers onsite? The best thing to do is to collect some samples found in and around the home, and put them in a baggie. Show the specimens to a trained pest professional who can correctly identify them.
This region of North Carolina is also home to some types of ants that can grow wings. These pests may resemble swarmers so before you get alarmed, make sure that actual termites are on your Mooresville property. Once the pests are positively identified as swarmers, it is best to call a termite expert near you to address the next steps to get termites off the premises.
How Worried Should I Be If I See Termite Swarmers In Mooresville?
If bugs are determined to be termite swarmers, it's not time to worry; it's time to call the pros. Getting expert advice from a trusted pest professional like Lake Norman Pest Control means understanding how bad the problem is and what can be done to stop it.
Now is not the time to think about a stopgap measure. Even if the swarmers are killed, that will do nothing to help get rid of active termites in the home. The swarmers aren't the pests damaging the structure; the worker termites are responsible for all destruction.
Effective Termite Prevention Tips For Mooresville Properties
Staying on top of termite control takes some commitment but is achievable with consistent effort. Keep from ever seeing swarmers at home again with these termite prevention methods:
Minimize moisture: Protect the foundation from staying wet, which can attract termites. Use gutter spouts to divert excess water from this part of the structure. Remember crawl spaces too. Ventilate these areas in warmer seasons. Consider installing a vapor barrier to reduce humidity.

Obtain a professional service plan: No preventative step can get a termite-free home as well as this measure can. When professionals are on the job, they can treat existing issues while nipping any future problems in the bud.

Reduce wood onsite: Don't bury wood scraps around the property. When trees are cut down, have the entire stump removed as well. Discard onsite wood, or at the very least keep woodpiles at least 20 feet away from any structure.

Seal off entry: Help prevent termites from coming indoors by sealing off their entry routes. Caulk any fractures or gaps that these pests could use to crawl inside.
When termite removal or pest control is needed, the best way to handle it is by reaching out to Lake Norman Pest Control. Our specially trained team members know what to look for and successfully treat termite infestations. We also take steps to ensure that they never return once these pests are out.
Previous
Next