Get Rid Of Ants Naturally
Ants are pesky little things that can infest your home quickly. Before you hire a professional exterminator, you may want to try some of these natural ways and quick tips to get them out of your home. Doing ant control on your own can be helpful especially if you want to save money. There are natural ways on how you can get rid of ants for good without seeking the help of a pest control company. If you are having a hard time thinking about what you can do to stop ants from infesting your property, here are some possible means on how you can eliminate ants naturally.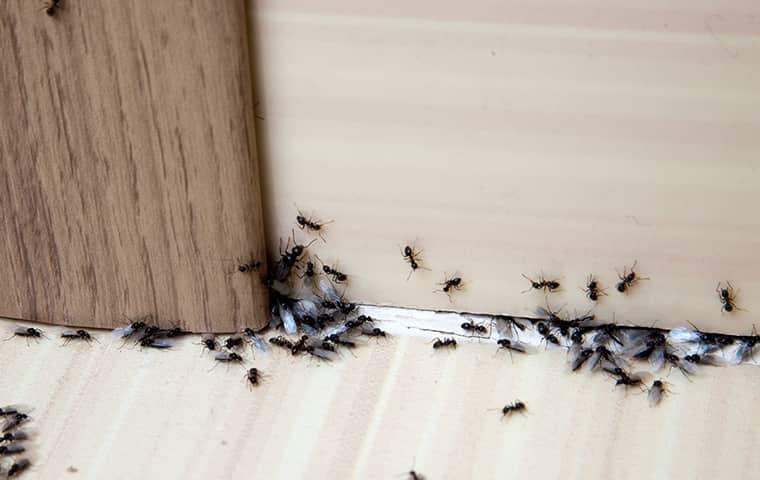 Homemade Baits
Many people have experimented with homemade baits when it comes to ant control over the years. They have been successful in developing some that many people can do themselves.
A common one is mixing Borax with powdered sugar and placing it in small dishes around your home. You should put them in areas you have seen ants or suspect they may be hiding. This mixture attracts the ants because of the sugar but will ultimately eliminate them because of the poison mixed in with it. Make sure this mixture is away from kids and animals because it is poisonous.
A combination of water, oil, and dish soap is also a good bait for ants. It can entice ants easily once you place it on areas where they are typically marching back and forth. The combination can trap and drown the ants effectively. Also, you can mix the three ingredients and spray them on the ants and on entry points to prevent them from moving further. This recipe might not kill the entire colony, but at least those stragglers will be gone for good.
Ants and pests can be annoying, and if you want to get rid of them, a mixture of powdered sugar and baking soda will do the work. The powdered sugar will lure the ants to come to the bait while the baking soda will play with their digestive system. The acid in ants will cooperate with the baking soda which will make them explode. The mixture is safe for children since it is non-toxic. This bait is good since ants cannot easily distinguish the two powders due to its size. If you want to make this work, place the bait on places where ants are present or on trails.
Diatomaceous Earth or DE is another bait you can use, and you can buy it in stores. It is one of the most natural and effective bait you can use for ants. It can instantly kill them, and it is proven by many. The DE will cling onto the ants which will dry them and will make them dry. Because of this, the ants will die instantly.
Clean Home
Another way to keep ants and other pests out of your home are by maintaining a clean house. If you focus on cleaning up after every meal and not letting crumbs stay on your countertops for an extended period, you are eliminating the threat of pests. Ants are attracted to sugar and other foods so when they sense there is some left out or not covered up adequately they will begin to make their way into your home.
Using vinegar while cleaning can help eliminate those ants. A combination of water and vinegar can drive away those nuisances and using the solution for mopping will not only make your home ant-free but will also make it cleaner than before. If you want to kill the entire colony, pouring vinegar on the nest can make it possible.
Never leave the dishes unwashed as the leftovers can tempt those ants to come. If you have leftovers, it is best to cover it or place the bowl on plates with water which will stop the pest from reaching the food sources. Regular cleaning can already help in dealing with ants because the things that attract them are no longer visible and present. With this, they don't have any reason to come back to your property and pester. It is always best to maintain the cleanliness of your home to avoid pests like ants, cockroaches, fleas, and flies on visiting your property.
Essential Oils
Over the years, the use of essential oils has become increasingly more popular to have in the home. Many people use it for themselves instead of taking medicine, but what they don't know if they can use it to get rid of pests also. Some essential oils that repel ants include peppermint, tea tree, and lemon. You can use just one of these oils or a combination of all three to get ants out of your home. Go and buy a spray bottle and put around 15 drops of the oil in the bottle. Mix in some water to get enough to be sprayed. Go around your home and spray the areas that you suspect are infested with ants. This mixture will repel the ants from returning and leave a nice scent in your home.
Another essential oil to consider is the clove oil as it can kill ants successfully. It helps in removing the scent trail created by ants which help them to find the path they have made for their colleagues. The clove oil does not only obstruct the pathways; it can also kill them which is hitting two birds with one stone. Before using this essential oil, dilute it first with another oil because it is too strong if used alone. The clove oil can also eliminate other pests, insects, and bugs found in your property.
Orange essential oils can help deal with ants especially the fire ants. It can completely eradicate naturally those stinging ants which give burning sensation when they bite. The orange essential has D-limonene which can penetrate the respiratory system and waxy facade of ants. You can apply the essential oil on the mounds or spray it directly. Essential oils are helpful not only the health but also in deterring ant infestation. This is one of the natural ways you can do if you see ants in your property.
Clean Yard
Ants are typically found outside first before discovering you have them inside your home. To prevent ants from making a home in your yard make sure you keep up with it. Make sure your yard is mowed and taken care of, and this will prevent ants and other pests from getting too comfortable in it. If you have a lot of trees in your yard make sure you get rid of dead branches or decaying wood that is on the ground. The decaying wood is an excellent place for ants to make their home and once they start a colony, they will go out and search for food that could be in your home.
Aside from keeping the yard clean, transfer the trash bins away from your backyard since ants can climb on those to find food sources. Moving it farther is better. If you have old coffee grounds, you can use it to prevent ants from pestering your garden and house. They don't like the smell of coffee and putting them on flower beds, around the plant, and cracks can stop ants from invading. Coffee grounds are not dangerous to plants; hence it is more helpful as it can be a natural fertilizer.
If cleaning the yard is not enough for you, planting ant repellent herbs is a good solution. You can grow fennel, peppermint, and lavender in your backyard which ants don't like. Planting those herbs near your doors or entry points will stop the pest from crawling inside your house. The plants will not only help in giving your fresh air, but it can also prevent those small creatures on infesting your humble abode.
Professional Pest Control Company
If none of these ways work to get rid of your ant problem, then you can always call a professional exterminator who deals with ant control regularly. They use kid and pet safe products that are strong enough to get the ants out of your home for good. If you are looking for a trusted pest exterminator near you, Lake Norman Pest Control is the one you need. We offer excellent services which can get rid of ants, insects, bugs, and pests. Ants can get out of hand and dealing with them personally might put you in danger. That's why it is best to resort on professional help, and Lake Norman Pest Control can provide the service you need.
Lake Norman Pest Control can deal with ants by using effective yet safe treatments and methods. Rest assured that choosing us as your pest control company will give you satisfying results and will exceed your expectations. If you want a trusted and skilled ant exterminator in North Carolina, Lake Norman Pest Control is the one for you. We can come to you whenever you need our services. Contact us by calling (704) 663-6440. Give us a call today!