If there's one pest which will surprisingly pop out on your bathroom floor that will make you jump out of fear - that would be the silverfish. The pest is not a dangerous one but can be pesky, especially when they find your home a perfect place to live. Silverfish or "fish moths" for some is a scaly pest which is half an inch long and can vary in color. The adult ones are colored dark silver-blue while the young ones are pale silver. With their colors, you will be able to know the age of the pest.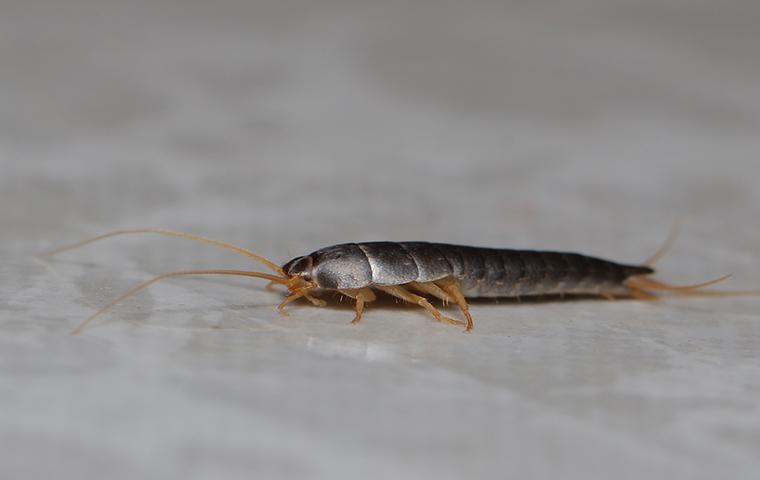 In every house silverfish can appear, especially when you least expect it. When you see one, you should be alarmed as the pest can increase its population rapidly since females can produce 2 to 20 eggs daily, which means that in a week your house can suffer from their infestation.
Silverfish and other pests are indeed bothersome as they can cause inconveniences and fears to you and your family. When pests are pestering your home, the best way is to get rid of them by calling a professional exterminator in Mooresville, NC.
But, if you don't want to spend money and would like to resolve your silverfish problems first, there are natural ways you can do that. If you want to eliminate silverfish once and for all, here are the home remedies you can easily do to help you solve your problems successfully. Check them out now!
Properly Store Your Food
Pests like silverfish will always be interested in your food. They will look for food as their way to survive; that's why you will see them even in your kitchen. Often, silverfish will crawl into your cereals, and letting them contaminate your food will lead to waste. They love powdery food or dry goods, that's why if you store rice, sugar, cereals, pasta, or flour in your kitchen cabinets, you better use tightly sealed containers to prevent the pest from infiltrating your food. Learning how to store your food properly will help stop silverfish from contaminating your favorite food.
Remove Water Sources
Silverfish don't only love food, they also love damp areas. If you see them in your bathroom or kitchen, don't be surprised because they are always in watery areas. If you don't want to see them while you are taking a bath or washing dishes, get rid of the water sources which pests can enjoy. Check for leaks and instantly seal them to stop attracting the silverfish. Or, you can dehumidify your home using a dehumidifier to remove damp places. If you don't have this, your fan or air conditioner is good enough to lessen the moisture in your home.
Use Traps
Aside from proper food storage, you can eliminate silverfish by using traps. This method has been used before, and if you have pests around your home, traps can be a trusted solution. There are several traps you can create using some items found in your home. Mason jars are effective in dealing with silverfish as they can be used for traps. You need a mason jar and masking tape which you need to seal around the jar and put some bait like bread inside, which is a favorite of the pest to lure them. Place the trap in areas where you usually see them. Once they get inside the jar, they won't be able to get out which will eventually kill them.
Another trap to use is a newspaper. Since silverfish are also into paper, newspapers, books, and magazines just like cockroaches, why not use these to eliminate them? A newspaper can be used as a trap by luring them inside. Have the newspaper rolled and seal it with a rubber band at the end. Afterward, you need to damp it to attract the silverfish. Once they sense that your trap is the perfect place they need, they will immediately crawl towards it, so immediately throw it away to get rid of them. If you want to use newspaper as your trap for silverfish, better do the process regularly until the pest is gone completely.
Moreover, there are traps which you can easily buy in stores if you don't want to waste your time making one. Sticky traps are effective as they will prevent the silverfish from moving once they walk over the trap. You can place the traps in areas where the pest is normally hiding or entering to catch and eliminate them easily.
Natural Sprays
Eliminating silverfish can be hard as they are quick at hiding. Using one method might not be a good help, especially if an infestation is already occurring. If you don't want to settle on traps, you can use some natural sprays which you can do on your own. One way is to make a spray out of lavender or lemon. The odor of the two can deter silverfish. You only have to mix the extracts on water and place it in a spray bottle. Once you have the solution, liberally spray it all over your house especially on places where silverfish are around. If you see the pest in your drawers, closets or bedroom, you can use the spray as it is non-toxic and creates a pleasant smell. If you don't want to settle on natural sprays, you can also buy sprays from stores which are an effective solution for your silverfish problems.
Diatomaceous Earth
When it comes to one of the most effective solutions for pests like silverfish, diatomaceous earth never disappoints. DE is made from fossilized algae which are used for pest control. The powder is easy to use as you only have to sprinkle it all over the place. Once the pest made contact with DE, it will die instantly as the powder will dry the pest and will lead to dehydration which will kill them instantly. After three days, immediately vacuum the powder to remove the dead silverfish and throw them away. If you want to get rid of the pest entirely, use DE weekly to reach your goal. Also, if you buy DE, make sure to choose the food-grade one as it is non-toxic and pet-friendly.
Seal Entry Points
Silverfish can easily come inside because they can find a crack, hole, or gap in your home. If you have unsealed crevices, expect that pesky pests will quickly come inside and infest. Before they get into your home, make a move first by closing all entry points. Check the whole place to find if there are holes, gaps, and cracks. From your attic down to the window sills, inspect it to leave no place to enter. If you don't do this, you are unknowingly welcoming the pest inside your house. It will be your loss in the end.
Table Salt
If you have salt at home specifically the table salt, you can use it as your repellent for silverfish. The table salt can dehydrate the pest which will lead to their death. But, don't expect that the salt will take effect instantly as days are needed for it to work. If you see silverfish in your home, immediately sprinkle it directly on the pest.
Boric Acid
Boric acid is one of the most effective remedies you can use for pests like silverfish. The powder is easy to use as you only have to sprinkle it on places where silverfish are hiding. Boric acid doesn't only repel one pest, but it can be a deterrent for other pests found in your home. You can directly sprinkle it on the pest which will kill them in an instant. It does not only eliminate the pest, but the eggs are also eradicated. These are the natural ways you can do to get rid of silverfish. Having this pest at home can become a nuisance that's why you have to eliminate them as quickly as possible. However, if doing the pest control alone is not your forte, better let an exterminator do the job.
Professional Pest Control Company
Silverfish are small yet annoying pests which you should get rid once you spot them. If you want to eradicate the pest, Lake Norman Pest Control is the one you need. Lake Norman Pest Control is a trusted pest control company in Mooresville, NC you can depend on when silverfish and other pests are the matter. The company provides exceptional services which are incomparable from others. They provide satisfying results and are performed by skilled and certified technicians.
The company offers safe yet effective treatments which will not put you and your family in great danger. The team will come to your property and perform inspections to find where those silverfish are hiding. Once they know, they will instantly treat the area to eliminate the pest and prevent it from creating future damages.
If you have silverfish at home, don't wait for them to blow up in number, hence, call Lake Norman Pest Control, and they will get rid of them once and for all. Dial (704) 663-6440 and they will quickly come to heed your needs to give you peace of mind.