Pests are one of the problems you can encounter on your property. No matter the season, pests will come and will cause infestation which can be a headache. One of the pests you might have in your backyard is wasps. The pest is known to be aggressive and can sting when they are in danger.
Wasps are flying pests which can be dangerous once triggered. They can sting humans which can lead to allergic reactions. Once they infest, it is harder to eliminate them on your own, that's why a professional should be called if you want to get rid of them successfully. But, if you are on a tight budget and would like to resort to remedies which you can do on your own, then check out these natural ways you can follow which will help you get rid of wasps for good.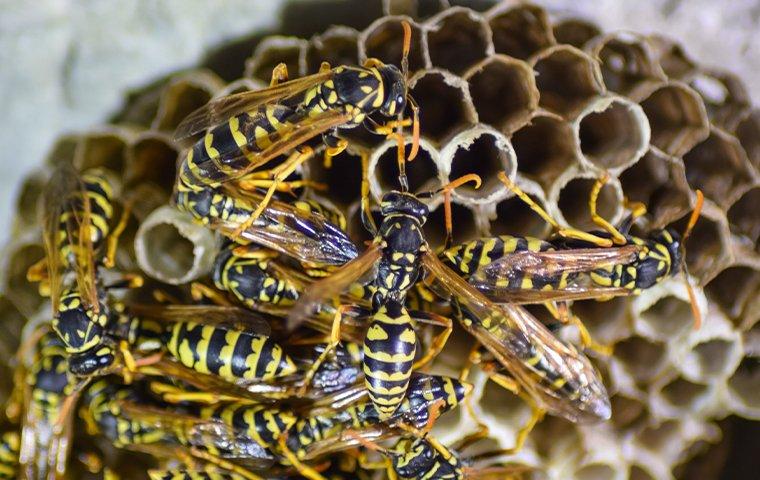 Household Items
Wasps can be eliminated using some household items available in your home. Dry ice can help in getting rid of the pest. You can put it on the entrance of their nest and seal it with dirt. The ice will cool the nest which will lead them to lose more oxygen. Once they don't have any oxygen to breathe, they will eventually die of suffocation. If you want to kill those wasps successfully, don't forget to cover also other holes where the pest can get out if they cannot breathe properly.
Another household item you can use is apple cider vinegar. This household item eliminates several pests and one of which is wasps. The pungent smell it has can lure wasps which is easier for them to be eliminated. You can create a trap where the pest can enter once attracted. When they get in, it will be harder for them to fly out which will eventually kill them. Also, you can make vinegar spray by combining water. Spray the mixture all over your house to repel wasps. Doing this frequently can efficiently get rid of the pests.
Boric acid is another household item to consider if you have wasp problems at your property. The acid is not only good for deterring wasps, but it can work on several pests - that's why it is a recommended solution. Put the boric acid in a bottle and make holes on areas where the pest is usually present and eventually squeeze the mixture into the holes. Once the wasps made contact with the boric acid, they will die. Don't forget to cover the holes after the pest is eliminated to prevent future damages to happen.
Sugar is a good solution for wasps if you combine it with water. The mixture can serve as a trap for the pest. The sweet combination can tempt wasps to enter your trap which will be harder to escape afterward. With this, they will die eventually which will help in lessening your wasp problems. Besides, soap with water is also an effective combination for controlling wasps. The soap can make their breathing difficulties which will lead to their death immediately.
Diatomaceous Earth is one recommended solution if your property is suffering from pests. DE is one of the best remedies you can use as it effectively kills pests like termites, cockroaches, and ants. Wasps are also eliminated using this; that's why having this at home is helpful. Put the powder on the nest of the wasp during the night as they are inactive. Do this two times to remove the nests in your property completely. When you put the DE on the nest, immediately run as the pest can be triggered and might sting you.
These are household items you can use to eliminate wasps naturally. If you have them, take advantage of them in controlling pests.
Water
Water is not only used for your daily living, but you can also utilize it for your pest problems. The nests above the ground are harder to deal with, but with water, you can get rid of them successfully. The water can drown the wasps if their nest is filled with it. But, this solution can be risky as the pest can sting you because they feel threatened. If you want to use water for getting rid of wasps, don't forget to wear protective clothing to keep yourself safe from their wrath. Also, using water, it is always great timing to put water on their nest during night time as they are inactive and unaggressive.
Essential Oils
Essential oils are playing significant roles in human lives as they don't only treat health issues, but can also help in eliminating pests around your property. One of the essential oils you can use is peppermint. Wasps don't like the smell of the oil or other mints and using it can repel them without problems. You can put a cotton ball with peppermint oil on areas where the pests can build their nest or have already created their home. Doing this, you can deter the pest without causing damages to you and your family.
Cinnamon oil is also good for wasps as it has the same effect on other pests. The smell is good for humans as well but make sure to use it with care as it can be dangerous on the eyes and skin once you've made contact. If you want to mix other essential oils, you can combine lemongrass, geranium, and clove oils to give you a great wasp repellent. The odor is pleasing and can be sprayed all over the house to deter pests and also freshen the area. Other essential oils you can use for wasps are lavender oil, tea tree oil, eucalyptus oil, and citronella oil.
Smoke
If you are still yet not satisfied with other natural remedies for wasps and want to use other methods, the smoke from a fire is also a desirable pest control solution. You can put a fire under the nest, and the smoke will eventually reach the pest which will suffocate them. When they sense the smoke, they will immediately fly out to evacuate which leaves the hive empty. If there are still wasps flying around, you can spray them with soapy water to kill them once and for all.
Before you perform any natural pest control, it is always best to get to know which pest is infesting your home. There are almost 30,000 species of wasps known, and the common ones are the hornets, paper wasps, and yellow jackets. Wasps are usually helpful in eliminating other pests like flies and insects, but as their population grows, the pest is becoming dangerous and aggressive. Also, wasps should not be ignored because they can sting which can cause some allergic reactions and can get worse.
These are the natural ways you can do to get rid of wasps without seeking any help from a professional. But, if you are not confident to perform pest control for wasps, you can call a professional exterminator.
Professional Pest Control Company
Wasps can be dangerous to handle, especially when they are triggered. If you don't want to experience their sting, the best way is to call an exterminator near you, and Lake Norman Pest Control is the one you should seek help. Lake Norman Pest Control is your trusted pest control company when wasps are the matter. The company is well-rounded in handling all types of pests. They have the best solutions which you cannot simply experience from others. The company never disappoints as they know all pests and can easily provide effective solutions which will suit your pest control needs.
Lake Norman Pest Control has a team of highly trained, reliable, and licensed technicians who perform high-quality pest control services. Since wasps are not easy pests to eliminate, the company ensures every step is done safely to keep you in good hands even after the treatment. The company will meticulously inspect your property to find where wasps are usually nesting and will use the best solution to drive away the pests completely.
With Lake Norman Pest Control, you don't have to worry about anything because they can resolve your wasp and pest problems successfully. They are your best option if you need professional help in saving your house from pest infestation. The company guarantees that only the best services will be delivered and experienced exterminators in town will do all. From inspection down to the treatment, Lake Norman Pest Control will always meet and exceed your expectations which will turn you into one satisfied customer. Without spending too much money, your pest problem will be gone for good.
Wasps can be uncontrollable, especially when their number blow up and their nest becomes bigger - which is harder to deal with in the end. Handling them on your own might not be a good idea since it can be risky. If you don't want to experience severe problems in the future, then let Lake Norman Pest Control get rid of them permanently. When you need wasp professional experts in Mooresville, NC help for your wasps, insect, bug, or pest problems, contact Lake Norman Pest Control at (704) 663-6440, and they will be happy to serve you more!