Bed Bug Treatment Services In Concord, Mooresville & Beyond
Bed bugs were nearly eliminated a few decades ago but have reemerged in a big way in recent years, infesting homes, offices, hotels, and more in the Lake Norman area. Although they aren't known to spread diseases, their bites can cause itching, irritation, and other undesirable effects as well as serious mental and emotional stress while they are present in your home. If they infest your business, they can severely damage your company's reputation, which could take years to repair.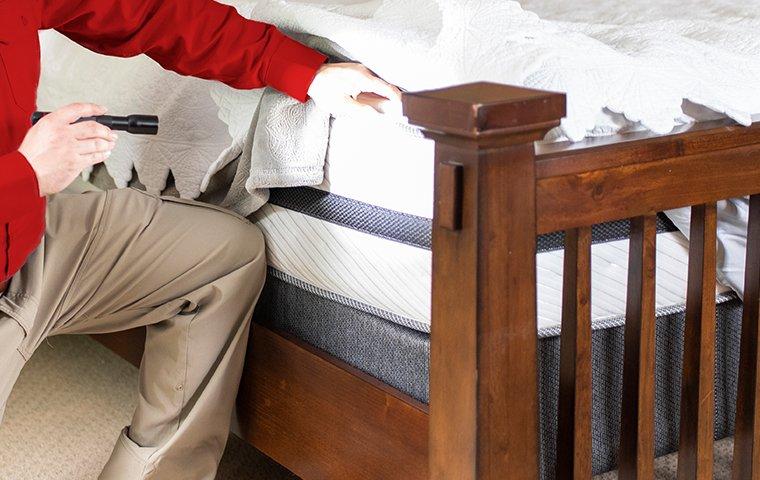 Although bed bugs can be difficult to detect, you can decide whether or not you need a professional bed bug treatment by looking for certain signs, such as:
Tiny, brownish-red bugs on your bedding, furniture, carpeting, baseboards, curtains, and more

Eggs and egg casings

Blood and/or fecal stains on your mattress or sheets
Don't want to hunt them yourself? Lake Norman Pest Control's bed bug experts are professionally trained to inspect for bed bugs in both residential and commercial spaces, locating bed bugs in even the smallest of spaces and eliminating these tiny critters using industry-leading extermination techniques.
If you have seen signs of bed bugs in your Mooresville home or business, whether you've noticed the bugs themselves, eggs or egg casings, or blood drops or fecal matter on sheets or blankets, you need to do something about it right away. Bed bug infestations do not resolve themselves independently, and the longer you wait to take action, the larger the infestation will grow. Lake Norman Pest Control provides bed bug control services to eliminate your bed bug infestation in its entirety.
Bed Bug Control From Lake Norman Pest Control
Inspection
Lake Norman Pest Control's bed bug experts train professionally to inspect for bed bugs in both residential and commercial spaces. We know the signs to look for and where to look in order to determine if you have a bed bug infestation and, if so, how large and far-reaching it is. This information aids in our elimination efforts.
Treatment
Before your treatment, we'll provide you with a bed bug prep sheet that includes the preparations you must take before we can perform your first treatment. We'll then schedule your treatment date and time so you'll know when to have the prep work completed.
Using industry-leading bed bug control methods, we'll treat your home or business for bed bugs, making sure to get into even the smallest spaces where we found bed bug activity. Because bed bugs easily move from room to room through the walls, we do not offer single room treatments. Instead, we'll treat your whole house or commercial building to ensure that we eliminate all bed bugs.
Follow-Up
After your initial treatment, we'll return one week later to re-inspect for any signs of bed bug activity. If we find any signs, we'll re-treat as necessary.
Warranty
After your final treatment, a 30-day warranty goes into effect. If you find bed bugs within those 30 days, we'll return to your home to re-treat it. If you want longer-lasting protection, consider signing up for one of our pest control packages. Your bed bug control will remain warrantied for as long as you keep your pest control coverage. If you have bed bugs in your home or business, contact Lake Norman Pest Control to schedule your bed bug inspection today.
Bed Bug Inspections For Homes In Mooresville & The Lake Norman Area
If you suspect your home may be host to a bed bug infestation, call Lake Norman Pest Control at (704) 663-6440 to schedule an extermination appointment today! We offer professional, safe treatments to get rid of bed bugs – we'll develop the pest control solution that best fits your needs following the home inspection. We also offer bed bug dog inspections! Call today!