Do you know that you can control and manage spiders by applying all-natural prevention? It's true. Spiders only have a few reasons for exploring the exterior of your house and living inside your home. If you address these attractants, you can reduce spider problems. Today, we're going to provide a quick guide for spider prevention in Mooresville. If you need spider pest control in Mooresville and you don't want to spend time reading a prevention article, remember that you can jump to our contact page at any time. We're here to help.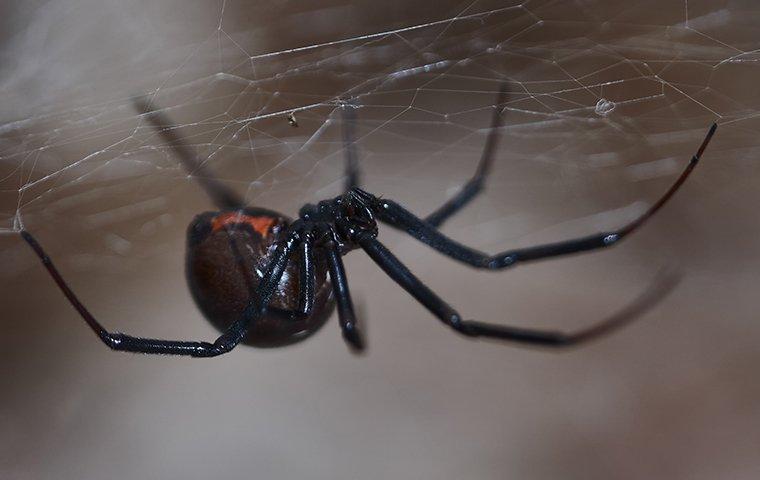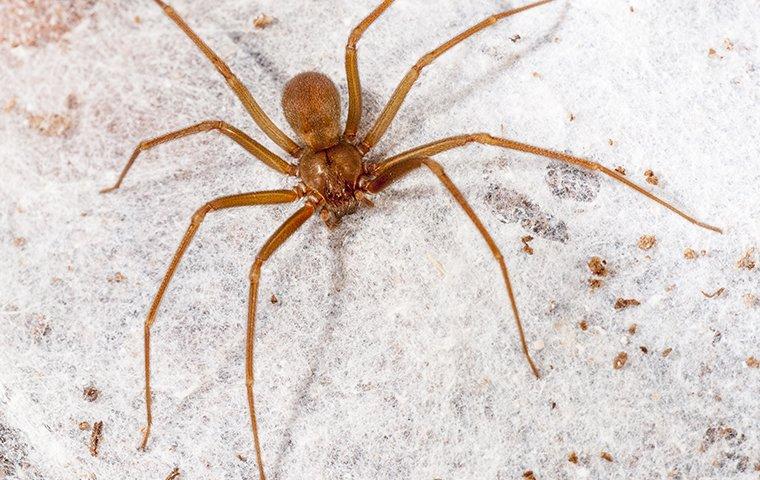 Common Types of Spiders Found In Mooresville
There are many spiders that can get into your Mooresville home. We can separate them in many ways. We could separate them as outdoor spiders and common house spiders. We could separate them as harmful or harmless spiders. Today, we're going to divide spiders by whether or not they create webs.
Spiders that make webs are easier to detect because their webs are often an eyesore. Some of the many spiders that commonly create webs around or inside Mooresville homes are:
Black widow spiders
False black widows spiders
Common house spiders
Cellar spiders
Black and yellow argiope
Funnel web spiders
Spiny-backed orbweavers
Lined orbweavers
Humpbacked orbweavers
Spotted forest Orbweavers
These spiders make a variety of webs. Some will create wispy webs that dangle from ceilings. Some make tangled webs near the ground or floor. Some create webs inside holes and dark voids. If you're looking to prevent spiders, you'll want to consider removing webs. We'll discuss that in the prevention section below.
Spiders that don't make webs are harder to detect. These come in many shapes and sizes. Keep in mind that some of these spiders will use webbing but they don't trap prey with their webs. They use their webs more for protection when they retreat. Some of the common spiders in this category are:
Brown recluse spider
Southern house spider
Parson spider
Southern trapdoor spider
Carolina wolf spider
Rabid wolf spider
Lance wolf spider
Forest wolf spider
White sac spider
Goldenrod crab spider
White-banded crab spider
Green lynx spider
Bronze jumping spider
Red-backed jumper
Regal jumper
Six-spotted fishing spider
All of these spiders are active hunters. When they come near your home, they can get inside by way of tiny cracks in your foundation or gaps around your pipes. Exclusion work is required for control. We'll talk about some ways you can seal entry points in our prevention section below. For now, we just want to introduce you to some of the non-web builders in our area. You can look all of these spiders up individually to see what they look like and how they behave.
Some Spiders Are More Dangerous Than Others
Many residents have a fear of spiders, and we can understand why. Spiders are scary looking. But you don't have to fear scary spiders. Only two spiders in our area are medically important and neither is inclined to bite you. They are the black widow spider and the brown recluse spider. You likely know much about these spiders. They are notorious. But you might not know that they are rarely deadly. There has not been a recorded death in the United States from either of these spiders in over two decades. That is definitely good news. Unfortunately, there is a little bad news too. A black widow spider bite can send you to the hospital, and the symptoms are unpleasant. A brown recluse spider bite can cause necrosis, and bite wounds need careful observation. If you are bitten by either of these two spiders, keep watch for symptoms or seek the assistance of your doctor as soon as possible. It is best to not take chances.
Moving back to the positives, we want you to know that a bite from a black widow spider isn't always bad. While it is certainly painful, you may not have any symptoms at all. Sometimes black widow spiders dry bite. A dry bite is when no venom is injected into the wound. If you get a dry bite, you'll only have temporary pain around the wound and mild swelling and irritation.
A bite from a brown recluse is usually not bad. Over 80 percent of bites only result in a bump, rash, and ulcer at the center of the wound. Be cautious, however, necrosis can occur under the skin where you cannot visibly see the spread. Sorry. We had to throw a little more bad news in there at the end.
Five Eco-Friendly Spider-Prevention Tips For Around Your Home
When dealing with common house spiders, particularly brown recluse, or exterior spiders and black widows, these five eco-friendly tips will help. While they require work, your efforts are rewarded several times over. Some spider prevention methods work to deter many other pests as well.
1. Address Spider Food
Spiders eat bugs. If you want fewer spiders around your home, you need to consider ways to reduce the number of bugs. In the category of bugs, we have three primary types: Insects, arachnids, and multi-legged invertebrates. Here are some tips to help you reduce their numbers.
Insects are attracted to light. Reduce exterior light or replace white lights with lighting that casts yellow light. Insects are attracted to white light but they are unable to perceive yellow light. Also, consider keeping shades and curtains closed at night. We understand that exterior light is helpful; that's why you have it. If you have locations where you need bright white light for security or convenience, consider getting motion detecting fixtures. When your pizza delivery person walks up your steps, the light will come on temporarily, providing the essential illumination you want without giving insects time to hang out near your door and come in when you open it.
Address anything that stinks. Insects are attracted to dirty trash receptacles, trash piles, pet waste, poorly mixed compost, rotting fruit, fertilizer, and more. When you take the time to clean these up or maintain them in a way that resists insect activity, you keep insects (and the spiders that eat them) away from your home.
Bugs are attracted to moisture. A damp perimeter will attract all three types listed above. Clean your gutters and fix any areas of your gutter system where rainwater leaks out. Trim dense areas of your landscaping to allow the wind to move through your vegetation and keep things dry. Remove leaves and other organic debris.
Spiders aren't the only arachnids that come into your yard. Ticks are common pests that spiders eat. Everything you do to deter wildlife activity will help to reduce ticks and the spiders that nibble on ticks. Protect voids under structures by installing hardware cloth as a barrier. Move bird feeders away from your exterior.
You can get a lot of control by applying these simple tips to address what attracts spiders. For even greater control, consider year-round, professional pest control to get rid of spiders and the pests they eat.
2. Remove Hiding Places
Some spiders hide inside objects in your yard. Black widow spiders are known to do this, so removing clutter is essential for deterring dangerous spider activity.
Remove wood piles and other organic materials stacked in your yard.
Store appliances and other man-made items indoors or well away from your exterior.
Remove tires, cinder blocks, and other materials that offer voids.
Fill in ground holes, particularly under trees and bushes.
Store yard equipment such as lawnmowers inside your shed or garage.
Spiders can get inside any object that has a hole, void, or recess. A clutter-free yard is a spider-resistant yard.
3. Seal Exterior Entry Points
Spiders can get into your home through many openings. Here are a few of the most common entry points they use.
Gaps around utilities, such as wire conduits, water pipes, and sewer lines
Gaps under doors that have no door sweep
Gaps around doors that have damaged or old weatherstripping
Damaged screens and gaps around screens
Cracks in foundation walls
Replace protective building materials and use a caulking gun, cans of expanding foam, and mortar to patch entry points in your exterior. Get the smallest of gaps, cracks, and holes.
4. Reduce Spider Populations Directly
One of the most effective control methods for web-building spiders is to remove the webs. Spiders prefer to create webs where other spiders have already created webs. Web removal makes your exterior less attractive for web creation. But, more than this, removing a web may also remove a spider egg sac, which can have hundreds of eggs inside it. If you don't want hundreds of new spiders crawling around your exterior, get out there and get those webs.
5. Keep Your Home Clean
Spiders don't like clean homes. It isn't that they're picky (or clean freaks), a clean home is not likely to have their insects of choice, namely flies and roaches. Clean up spills immediately, remove debris from floors, clean the sides of your oven, and manage your trash to keep your home free of flies and roaches. Doing so will reduce indoor spider sightings.
Do you see how it works? When you control the reasons spiders live near your home, enter your home, and establish themselves in your home, you reduce spider problems.
Professional Pest Control Is A Great Spider Control Solution
Are you in Mooresville? Contact Lake Norman Pest Control for spider and general pest control. We can target a specific spider problem or give your home ongoing pest and spider management. The best place to deal with spiders is on the outside of your home. In every season, your Lake Norman Pest Control technicians will make sure you have the exterior protection you need. Connect with us today to learn about the services we offer. We're always standing ready to help.