Ants are annoying pests. When they start to greet you at the door to your home, it may be enough to drive you to the hardware store for ant control solutions. But perhaps your tolerance is high. Maybe it takes a full-blown infestation in your home to make you take action. We don't know. But there is one thing that is common to all Mooresville residents; when it is time to get control of ants, no one wants to take actions that don't work. Yet, DIY ant control often fails. Do you know why ants are so hard to control? It comes down to one simple and unchangeable fact: ants are mysterious. Even the smartest people in the world don't fully understand how ants communicate or all the ways they elude pest control. Join us today as we skirt around this critical problem and share with you some all-natural solutions that work to stop ant infestations, and you don't need to know anything about ants or how to apply ant control in your yard and home. Does that sound like a plan?
Before we get started, we want to quickly remind you that there is another way to get control of ants without having to learn anything about ant biology and behaviors. You can jump to our contact page and reach out to us for ant pest control in Mooresville. Our licensed pest professionals have the education and experience to handle even the most complicated and mysterious ant problems. With that said, let's get started.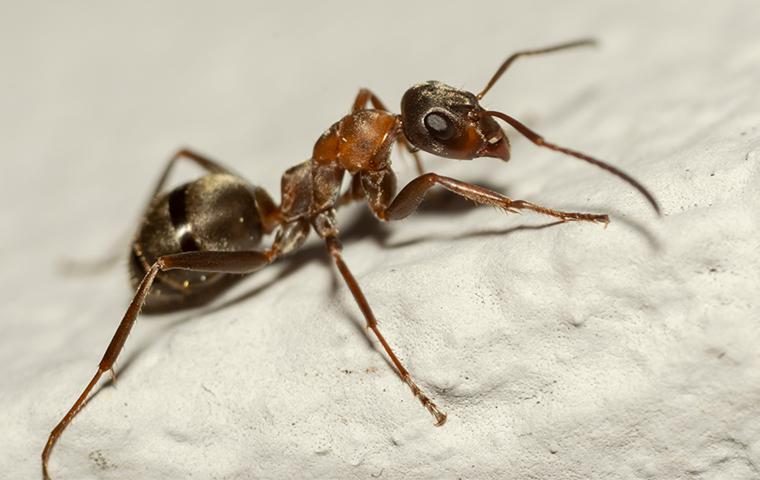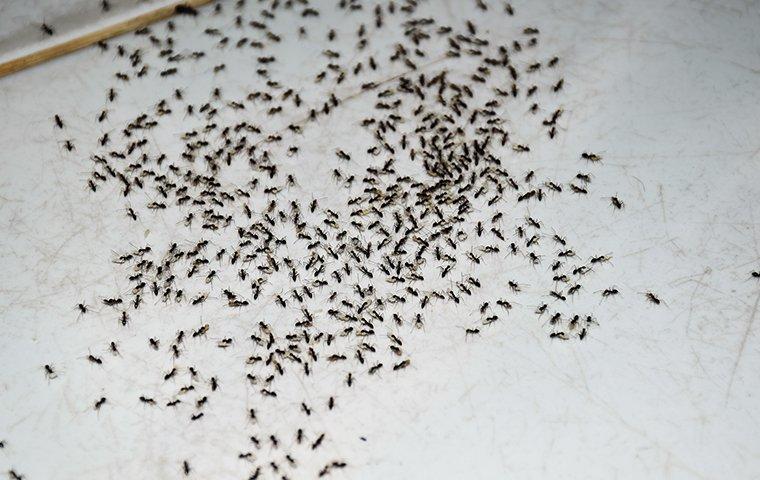 Common Types Of Ants That Invade Mooresville Homes
We could share volumes of information about the common ant species we see in our Mooresville service area. Some of that information would help you to diagnose your ant problems and select appropriate products. But even with the right products, ants may still elude your ant control. The primary reason is that ant control is not about a particular product. It is a process that includes inspections, product applications, general pest maintenance, monitoring, evaluations, and follow-up. As we quickly look at common types of ants in Mooresville, we'll share why these ants are a challenge to stop.
Argentine Ants: These tiny ants are known for making super colonies. The reason they can do this is that they have multiple queens and many reproductives. Argentine ant colonies are constantly splitting and replicating. New colonies that emerge work together with the colonies that came before them. When you try to stop an Argentine ant infestation, it can feel like you're trying to put out a dry brush fire.
Carpenter Ants: There are basically two types of carpenter ants in our area. One is dark red with a black abdomen. The other is entirely black. It is worse to have black carpenter ants in your home. They are the most destructive of the two. Carpenter ants are tricky to control because they create galleries inside wood sources. You can apply a mound treatment to stop them. You need to select appropriate baits or apply a product within wall voids. Professionals tend to do the latter because these ants are picky eaters and when a worker finds a food source, it only recruits a small number of ants to gather the food. Since only a few grab the food, the larger colony of ants detects that the food is dangerous when the small group is taken out.
Fire Ants: These ants are well known for their ability to bite people. While we call them bites, they are actually stings—sort of like wasp stings. These ants also swarm as wasps do. If you go near a fire ant colony, they will quickly let you know that they are displeased by coming out in large numbers to attack. Fire ants emerge from their mound, but also from surface tunnels as far as ten feet away from their mounds to surprise you from behind. We point this out because those surface tunnels make fire ant control a pain (in more ways than one).
Odorous House Ants: These are probably the most common ant pests in North Carolina. Like Argentine ants, they have multiple queens in their colonies. They are also prone to get into homes and hiding in places that are difficult to treat, like carpenter ants do. Believe us when we say that it "stinks" to have an odorous house ant problem. You can go after these ants repeatedly and fail to stop them.
Ant control in Mooresville is often tricky because residents don't understand what ants eat, how they respond to danger, how they replicate their colonies, and where they build their nests. Hopefully, we've demonstrated the challenge, now let's look at why it is important to get control of ants.
The Many Problems Ants Can Create In Your Home
You know fire ants can sting, but are you aware that one sting from a fire ant is a serious threat to anyone who has a stinging insect allergy? Do you know that a stinging insect allergy can develop later in life after repeated exposure? Do you know that fire ants present a particular threat to babies because they can't communicate the reason why they're crying. Ants aren't just nuisance pests.
You know that carpenter ants can damage your property. Do you know that they cost U.S. property owners hundreds of millions of dollars yearly? Do you know that they can damage your home while feeding on outdoor food sources, such as honeydew and nectar? Do you know that infestations go on for years right under the noses of many Mooresville residents?
You know that ants create mounds in your yard. Do you know that a lawn weed problem can cause ants to create hundreds or even thousands of mounds in your yard? Do you know that a large number of ants can invade your home by scaling a tree or plant and entering your home through a gap around your windows? Do you know that they can cause electrical shorts?
You know that ants get into the trash. Have you thought about the fact that it only takes a few seconds for an ant to go from your trash to your cutting board? Do you know that ants can carry microorganisms that can give you an upset stomach or worse?
There is so much that most people don't know about ants. We hope we've demonstrated the challenge of ant control and the dangers that ants present when they aren't properly controlled. Now, let's look at all-natural ant pest control that doesn't require any knowledge of ants.
How To Naturally Remove Factors That Attract Ants To Your Home
Ants get into your home because they are first attracted to the exterior of your home. Once they get inside, they may enter frequently if they find food sources. Some ants will create an indoor nest when they find food. There is a reason the word "attractant" has "ant" in it. The best way to deter ants and stop an ant infestation is to address attractants because the last thing you want to do is attract ants.
Address lawn weeds. Ants eat plant sap and nectar. When your yard fills with tiny plants, tiny ants aren't far behind.
Address aphids. Ants love honeydew. When aphids attack your landscaping, ants are next. Keep your plants healthy and apply yellow sticky traps to stop aphids and other plant-damaging pests that produce honeydew.
Address light sources. Ants eat insects, and light attracts insects. But not all light sources attract insects. Insects can't perceive yellow light. Replace white lights with yellow lights and you'll reduce insect activity. Also, consider closing your drapes and shades at night.
Manage trash. Ants can smell a dirty trash receptacle from a distance. Make sure to get your receptacles to the curb each week so that trash doesn't sit and make your receptacles stinky.
Once you've considered food sources and worked to remove the "ant food" near your home, consider how ants get inside. All ants access your home by way of tiny gaps; even carpenter ants do this.
Use a caulking gun to seal door and window frames.
Grab some cans of expanding foam and fill in holes, gaps around pipes, and voids behind joists.
Replace weatherstripping if you see gaps.
Fix screens and seal gaps around screen frames.
Trim branches away from your exterior. This is one of the best outdoor ant control tips we can provide. While ants can scale your exterior, they don't prefer to do it. They'll enter your home in large numbers through ground cracks and entry points near where branches or plants touch your exterior.
Along with these tips, keep your interior clean and free of available food sources. When scout ants find a way inside, but they don't find food, they won't attempt to mobilize an army. Do you see how it works?
Professional Ant Control Is The Way To Go For Your Home
It is possible to control all ants in Mooresville with the tips provided above. Unfortunately, it is hard work—which is why people turn to ant control products. If you don't want to do the work, consider contacting us for residential pest control service. Lake Norman Pest Control offers routine treatments, layers of protection, and ongoing pest maintenance to deter ants from getting in. We'd love the opportunity to guide you in selecting a service plan that is right for you. Connect with us today.