Nothing is more annoying than opening a bag of flour, rice, or any grain only to find out there are bugs and weevils in it. Sometimes, these sneaky insects go unnoticed, so probably you have accidentally ingested the eggs, larva, or these nasty creatures once in your lifetime. Weevils and bugs are not the only nuisances. They reproduce quickly, so when left unnoticed, they can multiply in huge numbers and contaminate your food. They are also really difficult to exterminate. To save you from the hassle and trouble of dealing with these pests, it is always better and easier to take precautionary measures. Below are some steps you can do to keep pantry pests out of your food.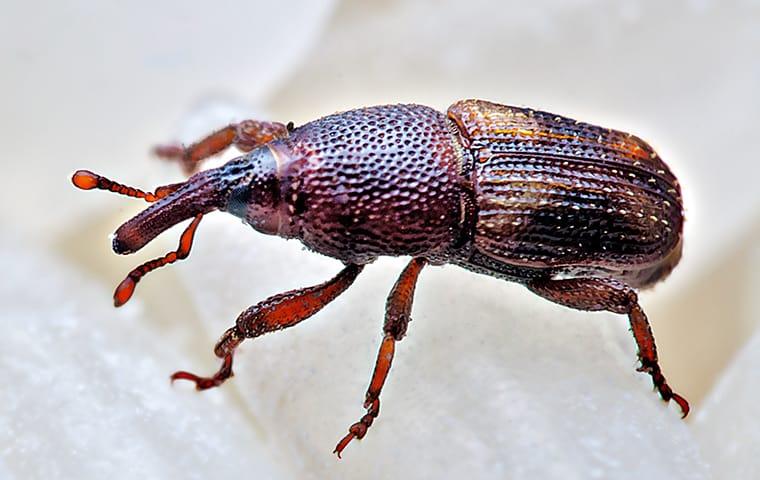 1. Get To Know Weevils
You cannot avoid weevils if you cannot even identify them or do not know what they look like. Weevils are a kind of tiny beetles which feed on rice, wheat, and other grains.
They come in various types and the one that is commonly found in the kitchen are the granary and rice weevils. Both of them have divided bodies that are made up of abdomen, thorax, and head. They can grow up to 4.8mm long.
Granary weevils are a shiny, red-brown while the rice weevils are dull, red-brown with four lighter spots on the body. The latter exists in slightly warmer climates and can fly while the former thrives in slightly cooler climates and cannot fly.
Weevils can live outdoors and indoors. Weevils that live outdoors can harm garden plants. Weevils that have made their way into a house are not dangerous. But of course, they are annoying. They can contaminate your food with their shed skin and feces. So if your package has been ingested, it becomes inedible which also means a waste of money.
2. Keep Your Kitchen & Pantry Clean
It is easy to get your kitchen messy. It is where you prepare your foods, chop spices, wash vegetables and meats, etc. There can be crumbs and spills from cooking and leftover foods at the table. There can be unclean utensils left unwashed in the sink. But you should know that a messy and dirty place is usually what attracts pests the most. That is where they thrive. So if you want to keep your food safe from weevils and bugs, keeping your place spotless should be the first step.
Make sure you wipe up any crumbs or spills from the floor, shelves, and countertops right away. Clean the mess using a disinfecting countertop spray or water and soap with a sponge or a clean cloth. Also, vacuum the floor, shelves, and crevices using a brush attachment regularly. Pay close attention to the corners of the kitchen, wall or floor junctures, and edges of shelves to get rid of any insects around. Also, do not forget to clean under all your kitchen appliances such as the toaster, microwave, fridge, stove, etc.
3. Seal Any Possible Weevil Entry Points In Your House, Especially The Pantry
Weevils can enter your house in two ways. First is through the contaminated foods you bring home from the store, and the other one is through access points in your area. So to make sure that the latter option will not be available to them, seal any possible entry points. Look for damaged weather stripping around the windows, doors, torn screens in windows, vents, or cracks in your pantry. Seal them with caulk.
4. Check The Foods You Buy
If your place is clean and you find weevils and bugs in your flour or rice, chances are they were already there when you brought them home. So before purchasing food items that weevils and bugs usually feed on, check the condition of the products first. If you spot a weevil outside the container or package, better not buy it. Also, keep an eye on the expiration date of the product.
If you are going to buy packaged products, choose the ones with clear packaging so it is easier to make the inspection. It is also essential to check for any damage to the package. If the seal is broken or there is a small tear or hole, it is possible that an insect has already infested the product. On top of that, purchase only the amount of rice, flour, or any other grain that you can consume within two or four months because the longer they sit in your pantry or kitchen, the more likely they'll attract pests or get infested.
5. Store Foods In Airtight Containers
Pantry pests are capable of squeezing through tiny spaces so if you want to keep them away from your food, better invest in a good airtight plastic, metal, or glass storage containers. You can buy and use mason jars for storing foods like grains. Storing all your foods including spices, flour, cookies, oats, and cornmeal in the refrigerator can also help. If the refrigerator does not have enough space, you can just freeze the newly bought food items for four days. Freezing will kill all the eggs and larvae present inside the food package.
Heating foods can also help prevent infestation by killing the pests before they even lay eggs or before the eggs hatch. Heating works best for rice or any other whole grains. First, heat the oven to 60 degrees Celsius. Rinse the grain thoroughly. Place it into a strainer and then hold it under clean running water. Comb through the grains using a spoon or your hands. After rinsing the weevils away, lay the grains out on your baking sheet, leave it in your oven for fifteen minutes, and let it cool before putting it in a storage container.
6. Throw Away Infested & Open Food Packages
If there are infested food packages in your pantry, immediately throw them away along with other open packages. Even if there are no weevils or bugs visible in the packages, it does not mean the food is completely free from those pests. They might have already laid eggs on the food items. If you do not want to throw away the open food packages, you can choose to freeze the bugs for three to four days.
7. Use Repellents
Using kitchen herbs that weevils and bugs hate is one of the effective ways to get rid of them or keep them away. Bay leaf is among the effective repellents you can use. Sprinkle the leaves on your pantry shelves. You can also just keep some in a container, put it on the shelf, and keep it open. If you have open food containers or packages of flour or rice and other grains, you can put one or two leaves in them.
Another option is cloves. Cloves can be easily acquired and typically work for those who face infestation for the first time. Just sprinkle cloves around your pantry area and cupboard shelves. Matchboxes can also work. It may sound odd but there's no harm in trying (just make sure that the item remains out of children or pet's reach). Matchboxes contain sulfur and this substance is not appealing to weevils. You can open a matchbox near the food packages. Last but not least is black pepper. Keep small bags of this spice in your pantry.
8. Throw Out Trash Immediately
Pests are attracted to anything nasty, including your kitchen trash. So make sure you throw them out of your house immediately. Before getting the trash can back in your kitchen, wash it thoroughly with water and soap. Leaving the trash in the kitchen can increase the chance of infestation and you will have to deal with the nuisance all over again. So if you get lazy taking the trash out, think of the consequences of keeping them longer.
Dealing With An Overwhelming Number Of Weevils & Bugs? Call the Experts.
If there are already a huge number of weevils and bugs in your house and the methods above do not work, or if you just do not want to deal with these insects yourself, you can call the experts for help. Lake Norman Pest Control is a pest control company in North Carolina that you can rely on. The team uses human and pet-friendly solutions and methods to solve bug or pest infestations. They make certain that your place remains safe from annoying bugs. The staff uses only the best practices as well as products to guarantee amazing results that you deserve.
If you have weevils infesting and do not want to deal with them, you can leave the extermination job to the experts. Just call Lake Norman Pest Control at (704) 663-6440 to discuss your current situation and the type of help you need. Aside from controlling weevil and bug infestations, the team can also handle other insects and pests. So whether there are rodents around your area, you want to get rid of beehives, etc., the team is always ready to provide help.