Pest Control Services In Denver, NC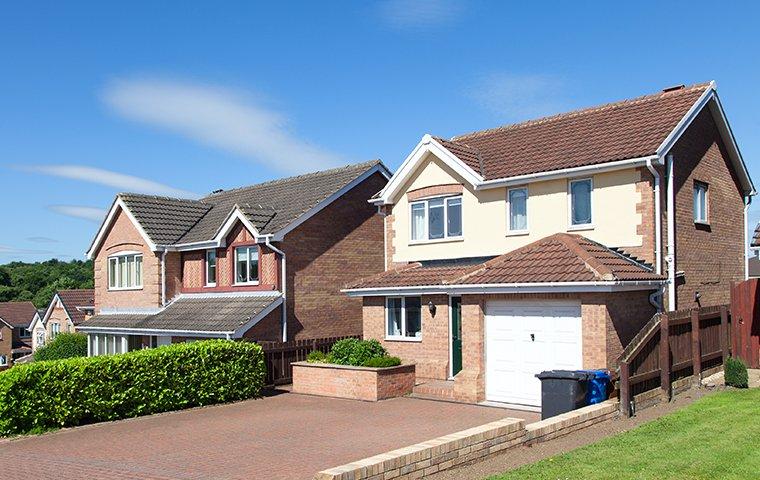 We can help you get rid of mosquitoes, termites, ants, rodents, and many other bugs, we have been helping people with their pest management since 1959, our family-owned company strives to provide the Lake Norman area with the best pest control services available, We also offer TAP Insulation installation and lawn care services to home and business owners in Denver, NC.
General Pest Control
Looking for professional pest control services in Denver, NC? Look to Go-Forth Pest & Lawn. From flea control to termite inspections, you can count on our Denver pest control technicians to provide you with quick, efficient pest control services. We proudly offer homeowners same-day service, EPA-approved pest extermination methods, and more.
Flea Control
Dealing with a flea infestation is never fun. Not only will they target your family and pets, but they can also carry a wide array of diseases that can be harmful, including tapeworms and typhus. Get rid of the fleas in your Denver, NC home with the help of Lake Norman Pest Control. Why do homeowners across Denver, NC turn to Lake Norman Pest Control for all of their flea control needs? We provide superior customer service with every project we complete and always use safe and effective flea treatments. Thanks to our decades of experience in the pest control industry, we are better able to give our customers' homes what they need to function pest-free.
Termite Control
Go-Forth Pest & Lawn is Denver, NC's premier source for residential termite control. We have more than 53 years of experience providing Lake Norman-area homes with termite inspections and extermination services. In addition, we offer termite inspections for real-estate homes. Did you know that if not caught early on, termites can do thousands of dollars worth of damage to your home's structure? Termites like to hide in walls, floor coverings, and other structures that make them hard to detect. For help finding and eliminating termites, turn to the company that has been providing expert Denver, NC termite control services to homes across the Lake Norman area since 1959: Lake Norman Pest Control. When you need termite treatments that will work and leave your home pest-free, you will find no better company for the job.
Ant Control
At Go-Forth Pest & Lawn, our Denver ant control technicians have more than 53 years of experience ridding Lake Norman-area homes of fire ants, house ants, carpenter ants, black ants, and more. It is in your advantage to treat your ant problem before it spirals out of control - ants can actually do more damage to a home than termites! Have a colony of ants made a home on your property? For help getting rid of even the biggest ant infestations, rely on the Denver, NC ant control experts at Lake Norman Pest Control. With more than 50 years of experience exterminating ants in Lake Norman area homes, there is no type of ant that we can't eliminate:
House ants

Fire ants

Carpenter ants

Black ants

And more
Mosquito Control
Looking for a way to reduce the mosquito population surrounding your Denver, NC home? Go-Forth Pest & Lawn can help. With more than 53 years of experience in residential mosquito control, we will do all we can to rid your lawn of these disease-carrying pests. Summer is known for cookouts, swimming, great weather, and unfortunately, mosquitoes. If you need help reducing the mosquito population around your Denver, NC home, rely on Lake Norman Pest Control. With decades of experience in mosquito control, we understand that if you have a mosquito problem, it is important to get help as quickly as possible. Not only can mosquitoes leave you scratching your skin, but they can also carry diseases that are potentially harmful to you and your family. To keep your family safe from malaria, chikungunya, encephalitis, West Nile virus and more, contact Lake Norman Pest Control today.
Insect Control
Have you spotted wasps, hornets, yellow jackets or other stinging insects hanging out in your lawn? Go-Forth Pest & Lawn is here to help. Our Denver insect control experts have extensive knowledge and experience exterminating stinging insects in homes across the Lake Norman area.
Commercial Services
Are you in charge of a small retail store or a large office building in Denver, NC that is experiencing a pest problem? Whether you have spotted a mouse in your commercial office or you suspect a full-blown termite infestation beneath your store, you can count on the exterminators at Lake Norman Pest Control to get the job done right. Our Denver commercial pest control experts are proud to offer a wide range of services that fit the needs of all types of commercial properties, including:
Offices

Industrial buildings

HOA/Property management

Retail stores

Nursing homes

And more
No matter the size or type of business you own, Lake Norman Pest Control offers the pest control services your company needs to function properly. From roach control to termite control to rodent control - we do it all!
Lawn & Turf Services
Your lawn and turf can say a lot about your home. If you need help transforming your home's lawn into a healthy and green environment, turn to the lawn care company that has been serving Denver, NC since 1959: Lake Norman Pest Control. From pH balancing to pest elimination to herbicidal edging, there are no lawn care services that we can't complete! Contact us today to learn about what our Denver lawn care treatments can do for your residential property. Our staff looks forward to bringing out the best in your lawn and turf.
Aeration, Overseeding, pH Balancing, Pest Elimination & More
Has your lawn become overrun with pests? Is your turf in need of some major TLC? Lake Norman Pest Control is here to help. We offer the following types of lawn care services to homeowners in Denver:
Herbicidal edging

Lawn and turf maintenance

Aeration and overseeding

pH balancing

Pest control and elimination

Fungicide

Bermuda grass reduction

And more