Expert Pest Management Solutions In Vilas, NC
There is a science to pest control. The more you know about this science, the more effective you will be at keeping pests out, and the more skilled you'll be at selecting the right Watauga County pest control provider when you decide to get residential or commercial pest control. Let's take a look at how the science of pest control is the best way to manage pests around homes and businesses in Vilas, North Carolina.
Home Pest Control In Vilas, NC
There is no better way to address household pest problems than to contact pest professionals. Lake Norman Pest Control is here to provide local homes and businesses with year-round Watauga County pest control. With extensive experience in providing residential pest solutions, we know that there is more to pest control than spraying the outside of your home.
At Lake Norman Pest Control, we use scientific methods first, and only apply sprays and mist applications where required. This provides exceptional, eco-friendly, and long-lasting pest control. Here are a few examples of how we use science to deter pests:
Spiders don't like it when you remove their webs. It sends a signal that the area is not safe for web creation. We remove webs to deter spiders from making webs.

Cleaning common areas where spiders create webs lets spiders know that the area is not secluded. They prefer to make their webs where there is dust accumulation. We use a duster as another way to naturally deter spiders.

We appropriately select baits for ants, roaches, and other pests that require targeted control.

We know where wasps create their nests and are aware of what season nest creation is most likely to occur. Using this information, we catch nests early to prevent problems.

We perform inspections to locate signs of pest activity and evaluate the success of the treatments being applied.

We use products to seal entry points and create a natural barrier. We may also treat these areas when added protection is needed.

We apply targeted treatments to locations we know pests frequently use to get into your home, such as around window and door frames, and through vents.

We apply targeted treatments in areas that might attract pests, such as garbage receptacles.

We apply targeted treatments where pests may find harborage, such as in light fixtures.
The methods and products we apply are always appropriate to the level of pest control needed. We use this same IPM methodology for commercial pest control.
How Do I Know If I Have Termites In My Vilas House?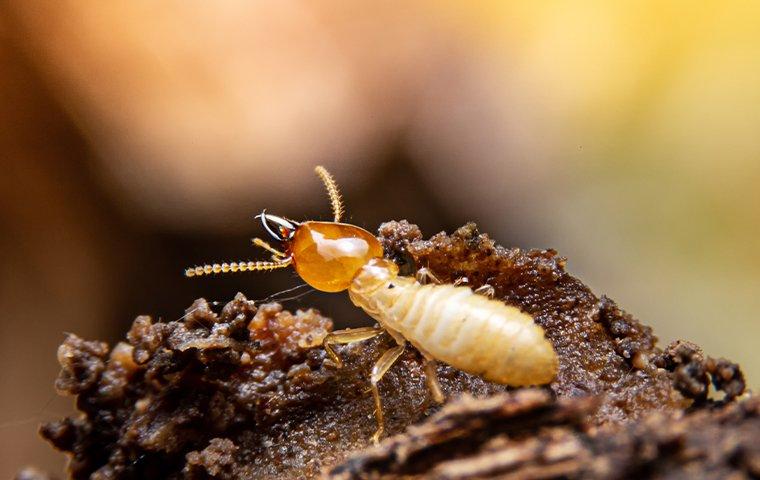 Is professional pest control the only way to protect your home from termites? No. While we certainly believe it is the best, there are ways you can use the science of pest control to guard against termite damage.
The termites that destroy properties in Lenoir are subterranean termites. They establish nests in the ground. When you look for warning signs, it is best to start near the soil.

Termites feed on wood, cardboard, and other items that have cellulose. You can detect worker termites when you pick up dead branches in your yard. Lift the branch and examine the bottom. If you see tiny, pale-colored insects, you have a termite problem.

Subterranean termites create shelter tubes to get to above-ground sources of food. You can routinely inspect your foundation walls for these tubes. They will be the width of a pencil and made of mud.

Subterranean termite nests produce winged termites when a nest is ready to replicate. If you see these winged termites (also referred to as swarmers) be aware that it is a warning sign of a current and mature infestation on or near your property. When you find them inside, it is an indication of a severe infestation in your home. A swarmer is about ⅜ of an inch, black in coloration, and has stacked wings on its back. The wings are white and rounded at the tips.
If you detect termites, contact Lake Norman Pest Control for a termite treatment, but keep in mind that you don't have to wait to have us protect your property. We can install the Sentricon® System with Always Active™ to give you proactive protection against termite damage.
All The Ways You Attract Mosquitoes Around Vilas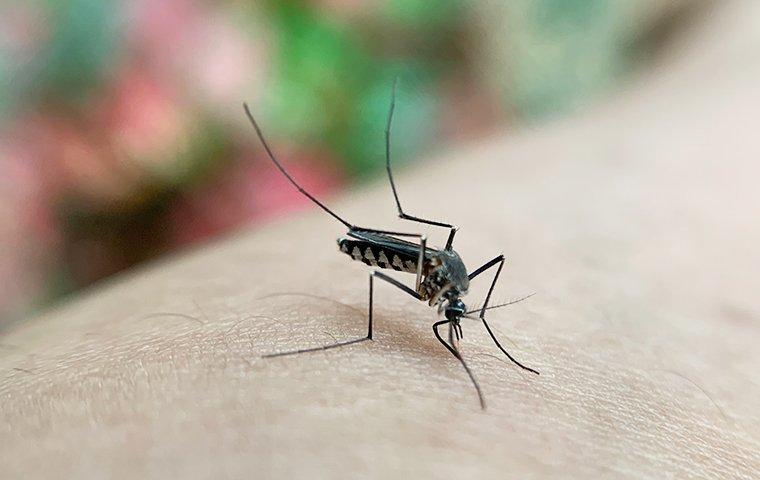 The best way to reduce mosquitoes in your yard is to get My Elite Plus pest service, which includes treatments for mosquitoes, but you can also use the science of mosquito control to reduce mosquitoes.
Mosquitoes that bite you in your yard are likely to have hatched in your yard. When you remove stagnant water, you make it more difficult for mosquitoes to breed on your property.

It takes a little over a week for mosquitoes to breed. If you pour a water source out, you can stop the development of mosquitoes.

Mosquitoes eat nectar. When you address weed problems, particularly weeds that have flowers, you can make your property less attractive to mosquitoes.

Mosquitoes need moisture to survive. If you maintain landscape plants that are dry, you'll deter mosquito activity.
It might not seem like it, but these four steps can have a big impact on mosquitoes and bring mosquito activity below your threshold of comfort. When more control is needed, keep Lake Norman Pest Control in mind.
Commercial Pest Control In Vilas, NC
No two businesses are exactly the same, and each industry has its own pest challenges. We help you find the right fit for your business, and we apply IPM principles to make sure you get commercial pest control that meets all government regulatory standards. You'll always be ready for audits.