Pest Control Services In Davidson, NC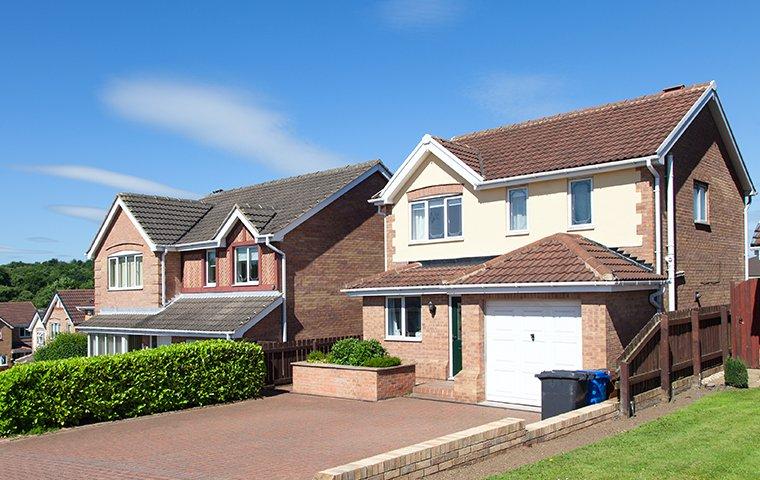 Located on the banks of Lake Norman in northern Mecklenburg County is the small town of Davidson. Though many people enjoy living in our wooded landscape, a wide variety of pests also live in our area and have no problem moving into Davidson homes and businesses. To keep your property free of unwanted pests, the professionals from Lake Norman Pest Control are ready to provide safe, effective pest elimination services. With over 55 years of experience helping residential and commercial property owners resolve their pest problems, we are committed to finding the right solution for all of your pest control needs. Whether you're looking for general pest management or services to target specific pest problems, the professionals from Lake Norman Pest Control can help. Give us a call today for more information about all of the excellent services we have to offer.
General Pest Control
Pest infestations are capable of causing a lot of problems for you and your family. Rodents, insects, and many other pests invade Davidson homes while searching for sources of food and water. If pests find these resources on your property, they're unlikely to leave. The most effective way to rid your Davidson home of pests is to implement an ongoing home pest control plan from Lake Norman Pest Control. We provide a wide range of high-quality treatments designed to protect your property from pests throughout the entire year, from bed bug inspections to termite control. Don't allow pests to invade your residential property and take away your peace of mind. Instead, reach out to Lake Norman Pest Control today for excellent home pest control plans you can trust! With more than 55 years of experience providing home pest control in Davidson, NC, there is no pest that we can't eliminate. To start working with a company that offers same-day service, as well as EPA-approved pest extermination methods, turn to Lake Norman Pest Control.
Termite Control
Do you suspect a termite infestation occurring in your home or a home you manage in Davidson? There are no better termite control experts than those at Lake Norman Pest Control. Don't risk damage to your home's foundation - call our termite control company before it's too late!
Ant Control
Did you know that ants can end up doing severe damage to your home if not caught early on? Whether you are dealing with a fire ant problem or a carpenter ant infestation, our Davidson ant control experts have years of experience getting rid of all types of ants in the Lake Norman area.
Mosquito Control
Although many people enjoy warm weather, no one enjoys being bitten by mosquitoes. These common warm-weather pests feed on the blood of humans and animals, leaving behind itchy red welts in the process. Mosquitoes might be annoying, but they're also a threat to your health. Mosquitoes spread a variety of dangerous diseases, including yellow fever, dengue, malaria, and the West Nile virus. To avoid dealing with mosquitoes around your Davidson home, implement the following mosquito prevention tips.
Replace the water in your birdbaths every few days.
Trim your grass short and cut thick foliage away from your property regularly.
Eliminate sources of standing water, which mosquitoes need to lay their eggs.
Minimize excess moisture around your property by repairing leaky pipes and faucets.
Wear insect repellent when you spend time outdoors.
Avoid going outdoors between dawn and dusk, when mosquitoes are most active.
Prevention tips are a helpful first step, but the most effective way to reduce the mosquito populations in your Davidson yard is with a little help from Lake Norman Pest Control. Get in touch with us today to learn more about our mosquito reduction services.
Insect Control
Have stinging insects taken over your home's lawn? From yellow jackets to hornets to wasps, there is no stinging insect that Lake Norman Pest Control can't exterminate. With decades of experience ridding Davidson homes of stinging insects, you can count on us for a job well done.
Lawn Care
Walking out into your front yard and seeing a lawn full of healthy, green grass is one of the most fulfilling experiences you can have as a homeowner. Unfortunately, not many homeowners have the time or knowledge necessary to maintain a pristine lawn.
At Lake Norman Pest Control, we understand the time, commitment, and resources necessary to provide your lawn with the care it needs to thrive. And, because we understand that everyone has different lawn care needs, we offer three unique lawn care plans: The Basic Turf, 2nd-Level Turf, and The Elite Lawn & Turf. In addition to providing three unique lawn care plans, we also customize your lawn treatments to fit your specific needs. Our customized plans may include some or all of the following services: pH balancing, fungicide applications, pest elimination, Bermuda reduction, aeration and overseeding, and more! We're ready to give your lawn exactly what it needs to thrive.
If you're looking for a way to keep your lawn looking fresh and healthy without the time commitment, look no further than Lake Norman Pest Control. We have what it takes to ensure your Davidson lawn remains as green and beautiful as ever. Reach out to Lake Norman Pest Control to get started on your first lawn treatment.
Commercial Services
Your commercial facility isn't the place for pests. If one or two of your customers notice pest problems in your business, they won't want to return to your establishment in the future. Defend your Davidson business against the area's toughest pests by partnering with the professionals here at Lake Norman Pest Control today. Our expertise goes beyond just residential pest control services. We are also able to provide premier pest control services to a variety of commercial buildings in Davidson, NC including HOAs, property management buildings, nursing homes, offices, and industrial complexes. We have the experience and know-how needed to eliminate your current pest problems and prevent new ones from popping up in the future. With our technicians by your side, you can rest assured that your business will remain pest-free throughout every season.
Contact Lake Norman Pest Control today for immediate assistance with all of your commercial pest control needs. Between our unique pest control service plans and customized lawn care options, you won't find an extermination or yard and turf care company delivering the same level of personalized service anywhere else.