Professional Pest Control For Maiden, NC Properties
Nestled in the foothills of North Carolina, residents of Maiden enjoy the benefits of a close-knit Southern community with safe streets and friendly neighborhoods. Unfortunately, one thing our residents are not safeguarded against is a pest infestation.
For more than 50 years, the professionals at Lake Norman Pest Control have offered a variety of safe and effective extermination services. Our experts can offer you service plans or simply give you advice on the best way to keep unwanted pests out of your home or business. Give us a call today to find out more about our service options.
Home Pest Control In Maiden, NC
Here in Maiden, we take a lot of pride in our homes, and the upkeep it takes to keep them in tiptop shape is no small feat. At Lake Norman Pest Control, our technicians can help you make sure your home is safe from invading pests as well, as help you keep your lawn looking its best.
We offer a range of residential pest control service options as well as a variety of lawn care service options and are happy to work with you to find a plan that works best for your needs and budget. You can see the unique treatment schedules and services available when you fill out our online form to receive a free service quote, or simply give us a call to schedule an appointment with one of our pest control technicians.
How To Tell If The Spiders On Your Maiden Property Are Dangerous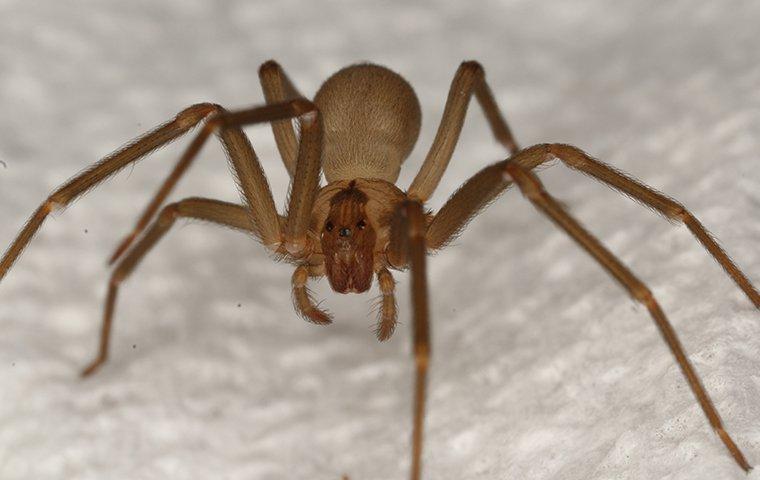 Spiders, in general, have an undeserved reputation. While many people are frightened by the sight of them, or at best want nothing to do with them, most spiders are harmless to people and even beneficial as they prey upon lots of other pests we'd rather not have around.
All spiders have venom, but very few present a health risk to people, and even those that do are typically shy and would sooner hide away than become aggressive. That being said, there are two species of spiders in Maiden that require some extra precautions.
The most famous of these is the black widow spider. These spiders have venom that is 15 times stronger than that of a rattlesnake. And, while black widow bites are rarely fatal, they can cause significant harm. You can identify black widow spiders by their shiny black body and red or orange hourglass-like markings on their bellies. Females are generally between ¼ and ½ inch, and males even smaller.
The brown recluse is a bit trickier to identify without the tell-tale coloring. They look similar to most tan to brown spiders, but if you look closely you can see a violin-shaped marking on their backs. Similar to the black widow, the brown recluse's bites can cause health issues but are rarely life-threatening.
Medical attention should always be sought if a person is thought to have been bitten by one of these spiders. And, whenever possible, it is helpful to capture the spider in question and bring it to the hospital along with the patient for further identification.
Five Tips For Taking Care Of Your Maiden Lawn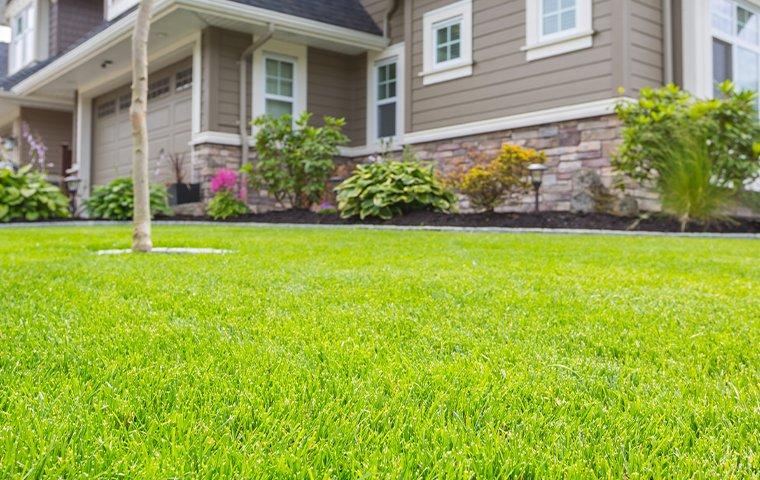 Your Maiden lawn is your first impression, and it's also your first line of defense against unwanted pests. Keeping a healthy lawn can actually provide a great benefit for pest protection. The two go hand-in-hand, which is why at Lake Norman Pest Control, we offer solutions for both.
Five things to be thinking about when maintaining your Maiden lawn include:
1) Irrigation: Too much or too little water can spell disaster for properly growing lawns. Ideally, lawns should be watered to a depth of 6-8 inches with half an inch applied every three to four days.
2) Mowing: For the healthiest grass, the quality of the cut is important. Make sure to keep mower blades sharp and balanced and mow grass to the proper height.
3) Clippings: For routine mowing, it's best to leave clippings to decompose. However, if mowing is delayed and there is an excess of growth, it is better to rake, bag, and remove clippings.
4) Fertilizing: Using the correct amount of fertilizer at the optimum time for the specific type of grass being grown are all important aspects of keeping a healthy lawn. Most North Carolina properties are acidic and often require an application of lime.
5) Professional services: With the number of variables and investment of time needed, it is often best to enlist professionals when caring for your lawn.
At Lake Norman Pest Control, we offer free, no-obligation lawn evaluations. Call today to find out more about our seven-step treatment plan and other lawn care options.
Commercial Pest Control In Maiden, NC
Your home may be your source of pride, but your business is the bread and butter. At Lake Norman Pest Control, we offer a range of commercial services to eliminate any existing pest threats and ensure they don't return in the future. Whether you need help with an HOA or property management company, a nursing home, an office building or industrial complex, or a restaurant, we have you covered. Give us a call today to learn more about the protection we can offer to your Maiden business.