Professional Pest Control For Troutman, NC Properties
Troutman is a small town in Iredell County, located roughly 35 miles north of Charlotte. To keep your Troutman home or business free of unwanted pests, turn to the skilled pest professionals here at Lake Norman Pest Control. We provide a wide range of commercial and residential pest control options designed to stop pests before they have the opportunity to invade. With over 50 years of experience in the pest control industry and a commitment to the communities we serve, we have what it takes to solve your pest problems in no time at all. With our technicians working the job, you can rest easy knowing that the protection of your Troutman property is in good hands. Reach out to Lake Norman Pest Control today for more information about our excellent pest control plans.
Pest Control Services In Troutman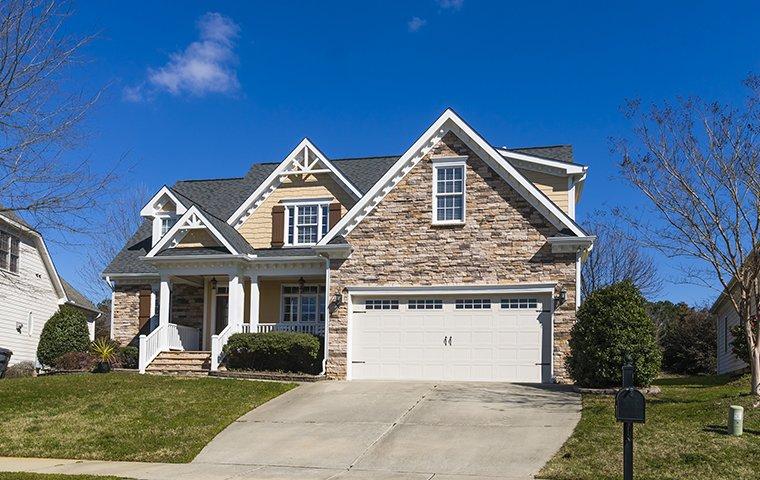 If you're looking for pest control services in Troutman, NC, look no further than Lake Norman Pest Control. Our trained exterminators use state-of-the-art gear and techniques to rid your home of pests and prevent them from coming back. Our commitment to your satisfaction is unwavering, and this has been a principle of our company since our founding in 1959.
In addition to pest control services, we also offer TAP Insulation installation and lawn care services to home and business owners in Troutman, NC.
General Pest Control
Lake Norman Pest Control is proud to provide general pest control services to homes in Troutman, NC. Whether you suspect a termite infestation or you need bed bug control services, you can rest assured knowing that you are working with a company that has more than 53 years of experience in pest control. Homeowners across the Lake Norman area love that we offer EPA-approved pest extermination methods, discounts for regular service agreements, and much more.
Termite Control
At Lake Norman Pest Control, we offer professional termite control services for homes and real-estate homes in Troutman, NC. With more than 53 years of experience in pest control, we understand that it is important to exterminate termites before they cause serious damage to your home's foundation. For termite control from a team with extensive experience dealing with these pesky nuisances, choose Lake Norman Pest Control. These little bugs can cause big problems, ultimately damaging your home and resulting in high repair costs.
At Lake Norman Pest Control, we take a comprehensive approach to termite control in Troutman, NC. We help get rid of termite infestations, but we also focus on keeping them out of your home in the future. Our Troutman termite experts are accredited WDIR termite inspectors who use the safest techniques available to eliminate any termites in your home and prevent any future infestations. Also for any termite treatment, we offer retreatment and damage repair warranty for eligible homes in Troutman, NC.
Ant Control
Ants can often do more damage to a home's foundation than termites, which is why it is important to exterminate them as quickly as possible. For quick and efficient Troutman ant control, turn to the company that has been serving homeowners in the Lake Norman area for more than 53 years. If you are dealing with an ant infestation in your home, you know what a nuisance they can be. However, did you know that ants can be more than just bothersome and unsanitary? They can actually cause even more structural damage to your home than termites.
Fortunately, with the help of Lake Norman Pest Control, an ant infestation can quickly become one less thing for you to worry about. Our highly-trained exterminators and Troutman ant specialists use state-of-the-art equipment and techniques to eliminate ants in your home and prevent them from coming back. We offer ant treatment and prevention services for the following types of ants:
Fire Ants

House Ants

Carpenter Ants

Black Ants

And More!
Mosquito Control
Mosquitoes are not only annoying pests, but they can also carry diseases that are dangerous to humans including West Nile Virus and dengue. Drastically reduce the mosquito population in your Troutman, NC lawn with the help of Lake Norman Pest Control. Our mosquito control experts have more than 53 years of experience eliminating mosquitoes in the Lake Norman area. At Lake Norman Pest Control, we're here to ensure you don't have to deal with mosquitoes and itchy mosquito bites. We understand these insects are often bothersome - however, they can also spread diseases such as malaria, dengue, encephalitis, West Nile Virus, and even canine heartworms.
To prevent these problems, the mosquito experts at Lake Norman Pest Control provide comprehensive mosquito treatment in Troutman. We treat the landscaping around your property with a residual adulticide. If necessary, we'll treat mosquito breeding sites to prevent the larvae from developing into adults. Although our Troutman pest control technicians use highly-effective mosquito control methods, we cannot completely eliminate mosquito populations on your property. However, we will do our best to drastically reduce them.
Stinging Insect Control
Contact our Troutman insect experts to eliminate insects and stinging insects around your home, our stinging insect exterminators have years of experience eliminating all types of wasps and stinging insects.
Home Pest Control In Troutman, NC
Protecting your Troutman home from pests is a difficult task, especially because your home offers everything pests need to survive. When it comes to keeping your residential property free of nuisance and dangerous pests, it's important to implement a reliable home pest control plan. At Lake Norman Pest Control, we've made it our top priority to provide excellent residential pest control plans that you can trust to keep your home free of pests year-round. We work quickly to eliminate pest problems using the most effective pest control services and prevention methods available. Whether you're dealing with rodents, insects, spiders, or other pests, Lake Norman Pest Control has you covered. Don't wait for pests to invade your Troutman home and threaten the health and safety of your family. Instead, give a call to the professionals here at Lake Norman Pest Control for solutions you can trust.
Commercial Pest Control In Troutman, NC
As a business owner, pest problems are not something you can ignore. Pests damage important equipment, disturb employees, scare away customers, and spread diseases, all of which can threaten the reputation of your business. To prevent pests from taking over your business and causing a loss of revenue, the professionals here at Lake Norman Pest Control are proud to provide year-round commercial pest control services. We are well-equipped to handle pest problems of any shape or size. No matter what type of business you own, you can depend on our skilled technicians to protect it from the area's toughest pests. Give your business the protection it needs when you partner with Lake Norman Pest Control. We're proud to offer comprehensive commercial pest control solutions you can't find anywhere else.
Quality Lawn Care Services In Troutman, NC
Everyone wants the satisfaction of owning a bright, green lawn that's admired by all who pass it. However, few homeowners have the time or dedication required to maintain such a lawn. That's why the skilled professionals here at Lake Norman Pest Control are happy to handle all of your lawn care needs. Our lawn care services include aeration and overseeding, fungicide applications, herbicide edging, pH balancing, Bermuda reduction, and much more. We have the experience needed to help you maintain a healthy, thriving lawn throughout the entire year. With Lake Norman Pest Control, you can even design your own treatment plan, based on the needs of your Troutman property. Get in touch with us today to get started!
How Troutman Homes Benefit From Professional Wasp Removal
Wasps are dangerous stinging insects that are most active in the warm summer months. There are over 4,000 wasp species in the U.S. alone, and when the weather cools down, they look for harborage spots to overwinter. They find ample hiding spaces around our homes and businesses, spending the cooler months in the eaves of your home, along fencing, under tree branches, or the open ends of the piping.
As a local property owner, it's important to understand the threat of wasps and the dangers they pose to you and your loved ones. Wasps can cause serious problems for you and your family, especially if anyone has allergies. Unlike many other stinging insects, wasps can repeatedly sting and bite, injecting their venom into their prey numerous times. For people that are allergic to their venom, it can be fatal, leading to anaphylactic shock.
It's vital to be proactive to protect yourself from the threats of wasp activity. The best source of wasp control and prevention is from the experts, and that's where we come on. Lake Norman Pest Control offers complete wasps solutions you can count on without a doubt. Troutman homes benefit from professional wasp removal because we offer an unparalleled level of expertise that brings you guaranteed results. Call us today to discuss your wasp control needs.
A Helpful Guide To Termites For Troutman Homeowners
Termites are wood-eating pests that feed on the structural timbers of your property. They weaken the construction of your home until it is no longer safe for you and your loved ones. Not only can termite damage be dangerous, but it's also extremely expensive. That's why it's crucial to be proactive in your termite identification efforts.
The sooner you're able to detect termite activity, the sooner you can address the problem and minimize the scope of the damage. The good news is there are common signs of termite damage to be aware of around your property. Detecting these signs will help you identify any termite activity and get ahead of an infestation before it gets out of control. The following is a helpful guide to termites for Troutman homeowners. If you notice any of these signs, it's time to take action:
Damp, damaged or weakened wood
Discolored drooping drywall
Hollow-sounding wood when tapped upon
Loose tiles and excessively squeaky/noisy floors
Small tapping sounds from inside the walls
Swarmer termites flying around looking for new places to nest
Visible cracks and crevices along the foundation
Windows and doors that are hard to open
Wings discarded on the floor near doors and windows
Worker termites in the soil, which look like white ants
If you suspect any termite activity around your home, reach out to us today. Lake Norman Pest Control has experience providing quality termite control and prevention solutions. Contact us today to get a detailed quote.
Why Troutman Residents Need To Take Mosquito Threats Seriously
Forget about the fact that mosquitoes are annoying pests that give us itchy bites. The truth is, there's a bigger threat at play than just the scratching. Mosquitoes are vector pests, meaning they can transmit diseases to their host when they feed on your blood. So, if the mosquito that bites you is infected, it can pass that disease onto you.
Some of the most common mosquito-borne illnesses include chikungunya, encephalitis, malaria, tularemia, West Nile, and Zika virus. Considering all these ailments, it makes sense why Troutman residents need to take mosquito threats seriously.
While there are many prevention methods when it comes to mosquito control, the most reliable approach is ongoing services from the pest professionals. That's why we're here. Lake Norman Pest Control is here to completely eliminate all mosquito activity from your property, guaranteed. Call us today to get started.
A Practical Guide To Ant Control For Your Troutman Property
Ant infestation is a huge headache that can get out of control pretty quickly. If you want to be proactive in your efforts to reduce ant attractants throughout your home or business, it's a good idea to be diligent in your prevention efforts. The good news is that there are some useful prevention tips to guide you in your ant control efforts. Here's a practical guide to ant control for your Troutman property:
Eliminate all access points and seal all cracks and crevices around the outside of the home.
Get rid of any standing water sources and any excess moisture around the property.
Install a dehumidifier in damper areas of the house, like basements, crawl spaces, and attics.
Keep branches, trees, and bushes well-trimmed and directed away from the house.
Maintain a high level of cleanliness and practice proper sanitation around your space.
Taking precautions can help, but at the end of the day, it's still important to secure ongoing services from the pest experts. For comprehensive ant control and prevention services, call in the team at Lake Norman Pest Control. We are here to deal with ant activity in your home or business, so get in touch with us, and we'll get started right away.
Fleas: How To Prevent An Infestation In Your Troutman Home
Fleas are tiny insects that feed on the blood of humans and animals. They typically prefer animals with thick coats of fur they can hide in. Fleas are less than ¼ of an inch in length and have reddish-brown bodies. One of the most frustrating things about fleas is that they can leap from one host to another quickly. Fleas have strong hind legs that allow them to hop up to 7 inches high and 13 inches horizontally, making them one of the best jumpers of all animals relative to body size. When it comes to keeping your Troutman home free of these blood-feeding pests, it's important to implement the following flea prevention tips.
Keep your property well-maintained. This included removing leaf litter, eliminating brush piles, and keeping your lawn trimmed short.

Always inspect your pets for fleas after spending time outdoors.

Equip your pets with vet-approved flea and tick treatments.

Minimize clutter on the interior of your home that fleas could hide in.

Bathe and brush your pets regularly, checking for fleas when you do so.

Eliminate entry points that rodents and wildlife pests could use to invade your property. Wildlife animals often carry fleas and other parasites.
Unfortunately, once fleas get into your Troutman home, it's nearly impossible to remove them without professional help. Even if you manage to eliminate most fleas, just one surviving flea is enough to start a new infestation. Reach out to Lake Norman Pest Control today for assistance with all of your pest problems.
Call Lake Norman Pest Control In Troutman, NC
Whether you're dealing with ants control, termite control, or weeds, Lake Norman Pest Control is here to deliver friendly, reliable services to Troutman, NC and the surrounding areas. Call Troutman's lawn care and pest control & extermination experts at (336) 841-6111 today! We are proud to offer same-day service and FREE estimates.