Professional Pest Control For Alexis, NC Properties
When pest problems threaten your Alexis home or business, there are a variety of consequences that might not be avoidable. However, you'll definitely be able to avoid these pest problems if you don't try to do it by yourself.
Anyone that enjoys a pest-free home or business in the Alexis area knows one thing: partnering with the right pest control company will create the kind of pest-free environment you can count on when it matters most to you. That's why Alexis home and business owners choose Lake Norman Pest Control.
With over 50 years of pest control experience and a 5-star online rating, we provide everything you need for the kind of peace of mind you're looking for in professional services. This includes our proven pest-free guarantee. Give us a call today to schedule an inspection with one of our residential or commercial pest control technicians.
Home Pest Control In Alexis, NC
When you own a home in the Alexis area, it can be very difficult to keep your property pest-free. Unfortunately, when you try to do this on your own, you expose your home and family to property damage and health hazards. That's why you shouldn't waste your time on the inconsistent results of store-bought remedies and DIY pest control methods.
Instead, partner with the pest control company that has over 50 years of experience protecting Alexis area homes from invasive pests. Our online reviews speak for themselves, and our pest-free guarantee can assure you that everything that matters most to you will be protected. Give us a call today to schedule an inspection with one of our pest control experts.
Can DIY Termite Control Be Effective?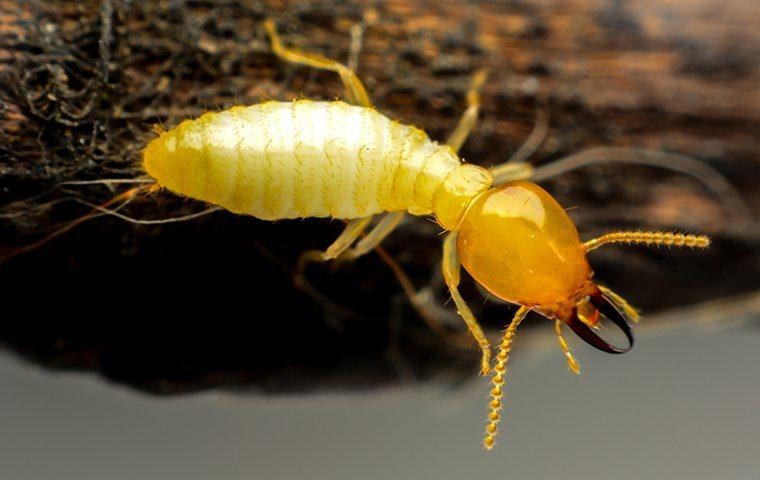 In a place like Alexis, we typically have to deal with the most invasive and efficient species of termite in the area: the subterranean termite. These pests prefer to feed on moisture-damaged wood, which makes them work very quickly (at least, by termite standards). After about 18 months of working day in and day out, these pests can create serious damage to your home's foundation, often totaling $3,000 or more. Unfortunately, it is very hard to detect termite activity, so you might know you have a problem until the damage has been done. That's why it's important to be on the lookout for the signs of termite damage, such as:
Mud tubes on the foundation walls
Visible damage to exposed wood
Shed wings of termite swarmers
Tightening around doors and windows
If you do notice the signs of termite damage on your property, remember that store-bought solutions and sprays will only kill termites on contact. While this might work to the rare, visible parts of the infestation, there could more than 90% of the infestation remaining within your walls, under your house, or in crawling around in the yard.
Instead of trusting your equity to the inconsistent results of amateur efforts, why not partner with the guaranteed solutions provided by a Lake Norman Pest Control termite technician? We have the preventative solutions to keep termites out and the eradication methods to get rid of any problem you may currently have. Give us a call today to schedule an inspection with one of our residential pest control professionals.
How To Spot & Stop Fleas In Alexis, NC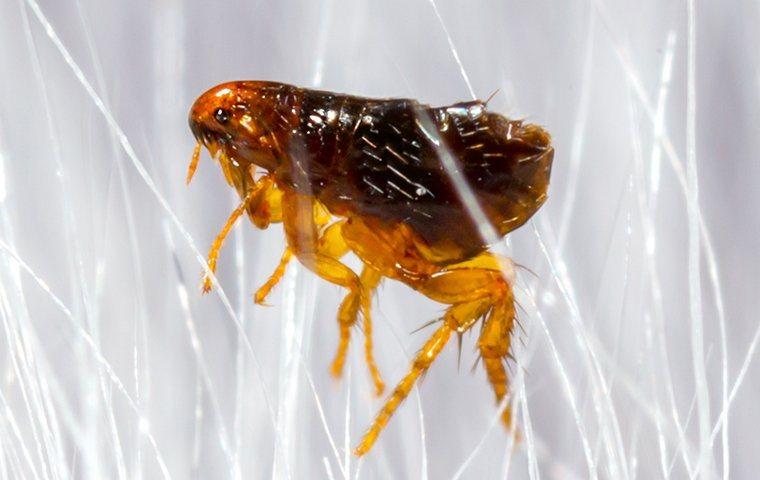 If you have fleas on your Alexis property, it can be difficult to keep them out of your home. Typically, they'll hop onto your pets, immediately lay eggs, and then jump back off. Once the pets go inside, they'll shake the flea eggs off onto your carpets, where a robust infestation will begin without you noticing any signs of an issue.
Once the fleas hatch and grow, they'll cause a lot of irritation in your pets. You'll notice your pets incessantly itching, and you might even notice the fleas jumping from your carpets or on your furniture. These pests can spread dangerous bacteria, so it's important to get professional eradication solutions at the first sign of a flea infestation.
Rather than trying to spray or vacuum your carpets, leaving hundreds of fleas around the house, partner with the most trusted pest control name in the Alexis area, Lake Norman Pest Control. If you notice fleas on your property or on your pets, give us a call for our guaranteed pest control solutions.
Commercial Pest Control In Alexis, NC
When you own a business in Alexis, it can be very difficult to keep pests off of your property, regardless of what kind of commercial facility you run. That's why you can't put your trust in anything but professional pest solutions that work every single time.
At Lake Norman Pest Control, we provide high-quality commercial pest control care that combines innovation and experience. Our pest-free guarantee can assure that your customers will never witness a pest problem in your commercial facility. Give us a call today to schedule an inspection with one of our commercial pest control experts.
How to Identify A Bed Bug Infestation In Your Alexis Home
A bed bug infestation can develop in your Alexis home for a variety of reasons, including coming into contact with bed bugs at work or simply having a neighbor with their own infestation. Bed bugs can be a tough problem to detect because they come out only at night and during the day, and live in places that you would not necessarily be capable of accessing. That said, here are some signs that might point to a bed bug outbreak in your home:
Blood stains on bed sheets and blankets
Waking up with small clusters of bites that you don't remember
A strong, pungent odor that permeates throughout the house and smells like mold
An increase in allergies and asthma attacks
Other red-colored stains on pajamas or bed linens
Feces that look like flecks of dirt, which may be located along seams of mattresses
Eggs and eggshells in bedroom furniture or electrical outlets
At Lake Norman Pest Control, we help homeowners find lasting relief from bed bugs with our exceptional treatment protocols. We use reliable methods of removal and return one week later to guarantee that there are no more of these tiny invaders. For more information on our bed bug control services in Alexis, please call us today.
How Dangerous Are Mosquito Bites In Your Alexis Home?
Mosquitoes are pests that are likely to appear around your Alexis property each spring and stick around throughout the fall. Their seasonal nature can make them very difficult to avoid. And it's even harder to stay away from mosquitoes because they need human blood to lay their eggs and find so much appealing about people. In some cases, mosquitoes are harmless, but in others, they do have the potential to be an issue.
The mosquitoes in the area have been linked with health issues such as West Nile virus, Eastern equine encephalitis, and heartworm in family pets. What's worth noting is that it's the Culex family of mosquitoes that is associated with the spread of West Nile virus; however, not every Culex mosquito is capable of spreading the pathogens that would cause West Nile virus. A mosquito has to be specifically infected with these pathogens in order to spread them. And even then, approximately 1% of people who get bitten by infected mosquitoes will actually develop health issues. But for that reason exactly, it's very important to deter mosquitoes and monitor yourself for any side effects after being bitten. For more information on mosquito control in Alexis, please call Lake Norman Pest Control today.
How And Why Rodents Find Their Way Into Our Alexis Homes
Rodents like rats and squirrels have developed a dependent relationship with Alexis homeowners in order to get everything that they need. Here are a few of the reasons how and why they might end up in your home:
Presence of food: One of the biggest attractions for rodents is food in any form. They don't care if your trash is overflowing, there are crumbs scattered around the floors of your home, or last night's leftovers are uncovered on the counter. Rodents will eat basically anything that they find.
Water sources: Another important factor for rodents is whether or not they have access to water. Most homes have some moisture irregularities or little leaks that will sustain a rodent's needs.
Shelter: When conditions outside are either too warm and oppressive or start to grow cold, the promise of a basement, attic, or crawl space is enough to keep rodents around the home.
Openings: Lastly, if your home has any openings rodents can squeeze through, they will take advantage of them. This includes cracks in your foundation, gaps around windows and doors, crevices along roof lines, functioning sewer systems, and even leaving garage doors open.
For more information on rodent control in Alexis, call Lake Norman Pest Control today.
Call The Professionals For Total Wasp Control For Your Alexis Yard
If you see wasps in your Alexis yard, the best thing you can do is bring in help from a pest control professional. This is important for a few reasons, starting with the potential health hazard that wasps can bring. While they do have their docile moments, if wasps are provoked or perceive a threat from anyone on your property, then they might attack. The results of their stings vary from person to person but can lead to difficulty breathing. One of the most important steps in eliminating and preventing wasps is by removing existing and old nests, which is something that is absolutely best left to the professionals.
At Lake Norman Pest Control, we treat wasps ethically and always focus on relocating them whenever possible. We'll inspect your property to locate any active wasp nests and then combine treatments that work for you. These may include trapping, removal, and control methods that utilize the latest technology. Because we follow the Integrated Pest Management approach, our work is designed to keep your property wasp-free and restore your peace of mind. For more information on Alexis wasp control, please call us today.