Professional Pest Control For Charlotte, NC Properties
Charlotte is one of the best places to visit and to live in all of the Southeast. However, that doesn't mean we get to skip out on the pest problems that plague our region. Fortunately for you, your home, or your business, Lake Norman Pest Control provides the kind of pest control that you can count on when it matters most. Don't you want the most impressive track record when what matters most to you is on the line? Here's what we have to offer that some companies can't:
50 years of experience
A+ rating with the BBB
5-stars on Google
Angie's List SuperService
Pest-free guarantee
Call us today to take your first step towards a pest-free home or business in Charlotte.
Home Pest Control In Charlotte, NC
As a homeowner in Charlotte, you have a lot to worry about to take care of your property, especially if you want to keep up with the neighbors. However, if you're not taking care of pest problems properly, they'll bring property damage, health hazards, and more to your Charlotte home.
Instead of relying on your own methods of pest control that will most likely prolong an infestation, why not partner with the most experienced and most decorated group of pest control technicians in the Carolinas? With five decades of experience and a pest-free guarantee backed by a proven track record, we have everything we need to give you the assurances you're looking for when it comes to protecting your home and family from pests. Call us today to schedule an inspection with one of our residential pest control experts.
Termite Control: Everything Charlotte Property Owners Need To Know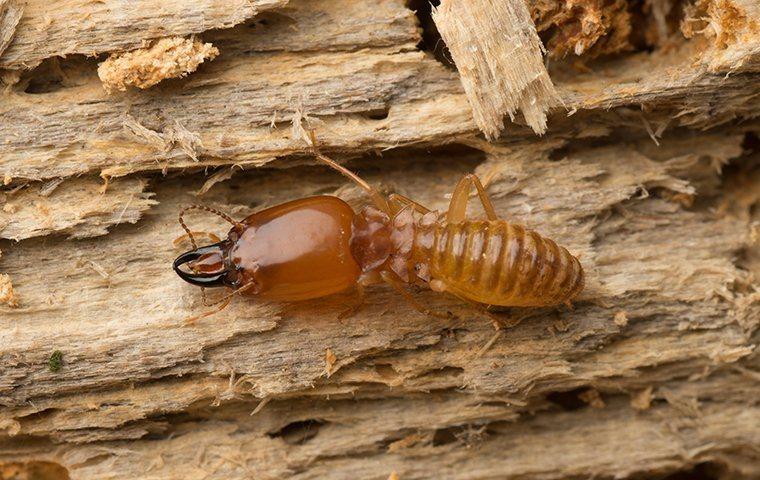 When Termites invade your Charlotte property, you might not realize it until thousands of dollars worth of damage has been incurred. These wood-eating pests will work under your home and within your walls for months at a time before you even realize you have a problem. That's why it's important to spot a termite infestation early by recognizing the following signs:
Mud tubes along foundation walls
Visible damage to exposed wood
Shed wings of termite swarmers
Tightening around doors and windows
If you do notice these signs, it's time to get professional help. There's nothing you can do to eradicate an entire termite infestation with anything you can buy at the store, or create in your home. If you're trying to stop a termite problem before it occurs, then you might consider better moisture control practices around your property. Using dehumidifiers in the crawlspace and maintaining the lawn will reduce the chances of a termite infestation, as termites are looking for moist soil and moisture-damaged wood to consume.
Even if you control moisture properly, however, nothing provides a guarantee like our Lake Norman Pest Control termite prevention plan. Give us a call today to schedule a professional termite inspection that could save you thousands of dollars.
How To Stop Spider Infestations Before They Start In Your Charlotte Home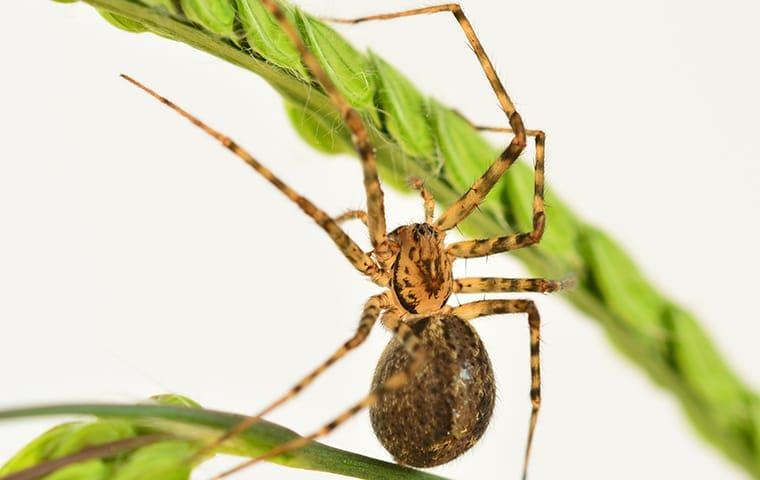 Spiders might not be dangerous to humans (in most cases), but unsightly webs and surprising visitors in the shower do not make for a very comfortable environment in your home. Unfortunately, spiders are very resilient to most store-bought pest control products. Even though they can be difficult to control on your own, spiders will become uninterested in your home if they do not find a sustainable source of their favorite food: other pests.
If you can limit pest activity on your property, then you can reduce spider attraction to your home. Here are the best things you can do on your own to accomplish this mission:
Maintain the lawn properly.
Store food and trash securely.
Clean regularly.
Keep the low traffic areas of the home clutter-free.
While these methods will reduce your chances of a spider infestation, nothing provides a guarantee the way partnering with a Lake Norman Pest Control residential technician can. With comprehensive pest control services, we can eliminate pest activity on your property, including spiders. As with all of our services, these services are backed by our 100% pest-free guarantee. Give us a call today to schedule an appointment with one of our experts.
Commercial Pest Control In Charlotte, NC
When you own a business in a place like Charlotte, there is way too much competition to be dealing with pest problems. Thanks to social media, every pest problem has the potential to wind up in front of thousands of prospective customers. So can you really afford to rely on the inconsistent results of store-bought remedies and DIY pest control efforts?

When you partner with Lake Norman Pest Control, you're getting the benefit of over 50 years of pest control experience and the latest in industry-leading pest-prevention methodologies. You simply can't beat a pest-free guarantee backed by that much experience and hundreds of five-star reviews on Google. Give us a call today to schedule an inspection with one of our award-winning commercial pest control technicians.
The Ultimate Bed Bug Prevention Guide For Charlotte Property Owners
If there's one pest that property owners in Charlotte need to worry about, it's bed bugs. These terrible little parasites can cause a lot of chaos once they get inside a building. Instead of focusing on enjoying the fantastic restaurants, craft beer, and history of the area, a bed bug infestation can upend everything for a homeowner. Lake Norman Pest Control understands how challenging it is to exclude bed bugs from your property without professional bed bug pest control.
It's vital that homeowners get bed bug control services in Charlotte from a reputable company. These pests are tough to get rid of for more than a few reasons, including:
Bed bugs will hide in the darndest spaces that are hard to reach, evading conventional treatments.
These bugs can survive without food for months and re-emerge to re-infest your home following incomplete treatments.
It's easy to dismiss the signs of bed bugs as being the bites of fleas or mites or an allergic reaction.
DIY solutions are not strong enough to get rid of bed bugs on your property.
Because people may travel to hotels, use public transportation, or come into close contact with large crowds, bed bugs can easily spread.
Bed bugs may hide in picture frames, furniture, or other miscellaneous items you bring into your home.
When a homeowner spots signs of bed bugs, it's time to get professional pest control services.
Call Lake Norman Pest Control to schedule an inspection and bed bug pest control services in Charlotte, and kick these pests out fast.
What To Do If You Have A Flea Problem In Your Charlotte Home
Fleas are one of those pests that can manage to enter and infest a home, even if the homeowner doesn't have pets. There are a few different ways that fleas can invade your property, which may come as a surprise. Consider the following:
If you have wildlife passing through your yard, they may bring fleas to your property.
Fleas will hitch a ride on dogs or cats and then drop onto your home's furniture or carpeting.
When you bring upholstered furniture or used items to your home, they might be harboring fleas.
Guests may unknowingly transfer fleas into your home when they visit.
It's no fun dealing with pesky fleas leaving behind itchy, annoying bites or constantly struggling to exclude them using store-bought products or DIY solutions. When fleas threaten to take over, it's time to contact Lake Norman Pest Control for a flea treatment for your home.
Lake Norman Pest Control is ready to help if you have a flea infestation. We provide effective flea pest control services in Charlotte. Our technicians will thoroughly inspect and treat your property's exterior and interior. We make sure to use exclusion techniques and products that are safe for families but not fleas.
Don't let fleas hang around in your home. Schedule a visit from Lake Norman Pest Control to exclude and prevent these pests.
Three Easy Ways To Keep Mosquitoes Away From Your Charlotte Property
When it's hot and humid, and there's plenty of standing water around, it's easy for mosquitoes to rapidly multiply and become a nuisance. For homeowners in Charlotte, finding ways to keep mosquitoes away from your property is essential. The best solution is to contact a Charlotte mosquito control company for help.
Be proactive and have your home treated by Lake Norman Pest Control for pesky mosquitoes. To fortify regularly scheduled pest control treatments, try the following to help thwart mosquitoes from hanging around:
Ensure your windows and doors have screens in good repair and that there are no gaps allowing mosquitoes indoors.
Remove sources of standing water around your home and yard, so mosquitoes don't have a place to lay eggs.
Maintain your landscaping to reduce overgrown and shady areas where mosquitoes like to rest.
Mosquitoes aren't only a problem because they cause itchy bites, leaving people and pets miserable. These troublesome insects have the potential to spread pathogens, trigger allergic reactions, and even cause people or pets to become sick.
Stay prepared and defend your home and family against mosquitoes by calling Lake Norman Pest Control for a property inspection and pest control services.
Home Remedies & Treatments For Rodents In Charlotte
When rodent pests enter your home, whether through the roof, gaps around doors, or squeezing through cracks and crevices, it's a nightmare. Besides calling Lake Norman Pest Control for professional rodent pest control, you can protect your home and health against invasive rodents by removing factors that attract them in the first place. Try the following tips:
Never leave garbage or food out in the open.
Remove sources of excess water by fixing leaks and ensuring good drainage.
Remove debris and clutter from your home and yard that could provide shelter for rodents.
Keep piles of firewood and felled tree parts away from your home and off the ground.
Spray diluted essential oils like cinnamon, clove, or peppermint to deter rodents from hanging around.
Place steel wool in openings or small holes that mice or rats could use to enter your home.
Seal off gaps, cracks, and crevices where rodents can enter your home and install chimney caps and screens on vents.
For complete rodent protection, schedule a visit from Lake Norman Pest Control to treat your home's exterior and interior and ensure rodents stay away.
Call Lake Norman Pest Control to learn what Charlotte rodent control services is best for you!