Effective Pest Management For Claremont, NC
You may not realize the extent of the issues, but any pest activity in your home or business can lead to serious problems. Unfortunately, Claremont homes and businesses seem to attract some of the most destructive or dangerous pests, making the need for pest control even more crucial. Fortunately for Claremont home or business owners, you're located near one of the premier pest control companies in the Southeast.
At Lake Norman Pest Control, we have guaranteed services that can create pest-free homes and businesses along with the track record to back it up. Our 5-star rating on Google and A+ rating from the Better Business Bureau are second to none in the industry, and over 50 years of experience speaks for itself. Our combination of experienced pest-technicians and green, reduced-risk products combine to create a safe environment for everyone but the pests. Give us a call today to find out about our pest-specific treatments or our continuous services that can keep your home or business pest-free for good.
Home Pest Control In Claremont, NC
From termites to carpenter ants and rodents, pest invasions can put the structure of your home at risk, along with many of the items inside. However, many of those same pests, along with roaches, fleas, and ticks, can bring dangerous health hazards into your home as well. With the safety of your home and family on the line, you don't just need pest control. You need professional home pest control backed by the Lake Norman Pest Control Guarantee.
We have as-needed pest-eradication methods to treat termites, bed bugs, mosquitoes, rodents, and more. We also offer continuous services based on your specific property needs, many of which come with a pest-free guarantee between quarterly visits. Give us a call today to find out more about creating the pest-free home of your dreams.
The Importance Of Professional Termite Control In Claremont, NC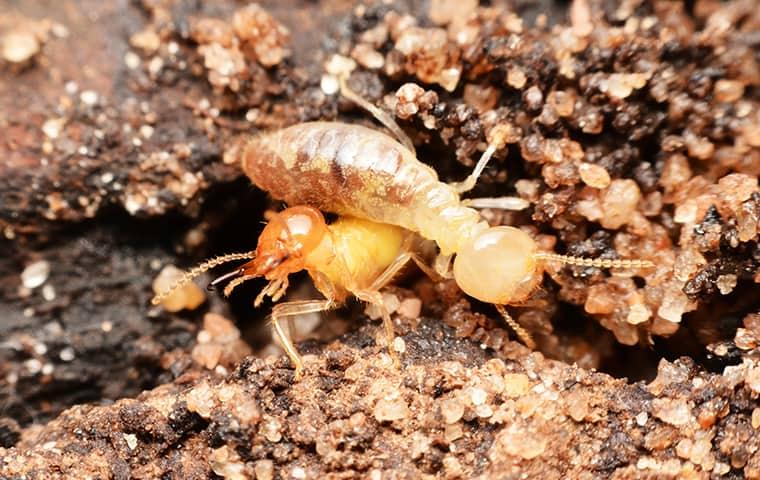 There are a lot of misconceptions surrounding termites, and many of them can cost you a ton of money. If you think that termites are unavoidable, then you're incorrect. However, if you think you can keep termites off of your property on your own, then you're incorrect there as well.
Termite infestations can happen to anyone and infestations are very difficult to notice. By the time you recognize the signs of a severe termite infestation, it could be too late. Termites can work within your walls in secret for years, and all it takes is about 18 months for termites to do more than $3,000 worth of damage on your property.
With all of that money on the line, you can't afford to trust your own methods of termite prevention or eradication. What you need is the kind of service that has been keeping Claremont homes safe from termites for over 50 years.
You need effective eradication measures and guaranteed prevention solutions. Our custom termite solutions use Sentricon technology to eradicate the entire infestation. Our bait-station prevention systems capture termites before they can even make it into your house.
For the only guaranteed form of termite control you can count on to truly protect your investment, call Lake Norman Pest Control today.
What Do The Bed Bugs In Claremont, NC Look Like?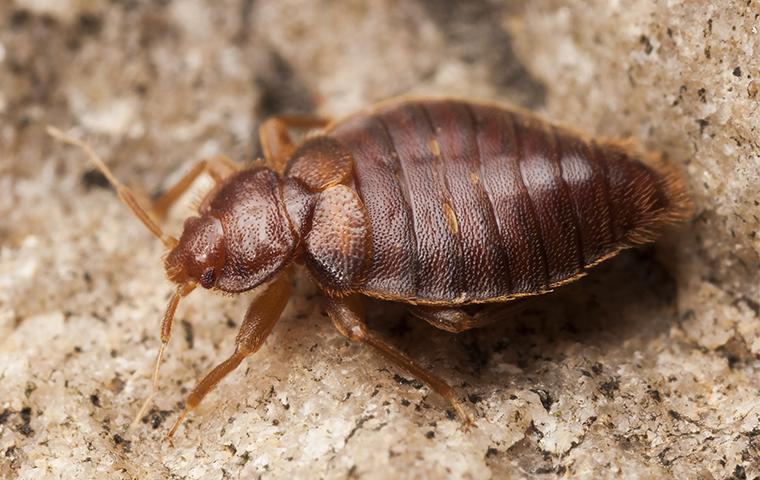 Bed bugs are some of the most problematic and frustrating pests that could infiltrate your home. These tiny pests are only five millimeters around and are usually light gray in color. They typically wait until you're asleep or not moving for a while to come out from within your mattress or furniture cushions to feed on your blood, which is why you'll rarely ever see the bed bugs themselves.
In the event of a severe infestation, you're likely to notice the following signs:
Red, itchy bumps on your skin

Rust-colored rings on sheets, curtains, and furniture

Musty odor on furniture
If you notice these signs, don't try and take care of the problem yourself. By vacuuming or spraying bed bugs, you'll allow those that are burrowed beneath the surface to prolong the infestation, which can lead to health detriments like skin damage, insomnia, and anemia. The only thing that can get rid of your bed bug problems is professional treatments.
Our Lake Norman Pest Control bed bug solutions include chemical treatments for the entire house and a follow-up visit one week later to ensure the problem is eradicated completely.
Our continuous bed bug services even include a 30-day warranty in between treatments, so you can go to sleep without worrying about bed bugs feeding on your blood in the night. Give us a call today for the most effective bed bug treatments in the industry.
Commercial Pest Control In Claremont, NC
When your business is invaded by pests, it can be devastating to your reputation. Most business owners worry about their inventory and creating a productive environment, and pests threaten those as well. However, nothing can cost you potential customers like a pest problem winding up on social media. That's why business owners have to be more careful than ever.
With so much at stake, you need more than inconsistent results from your own methods of pest control. You need 50+ years of experience in preventing Claremont pests. No matter what kind of facility you run, you need the kind of protection that Lake Norman Pest Control's continuous commercial pest control service packages can guarantee. Give us a call to schedule an inspection with one of our award-winning commercial pest specialists and start protecting your livelihood with methods you can trust.