Professional Pest Control For Hiddenite, NC Properties
Hiddenite is a small census-designated place located in Alexander County and is part of the Hickory-Lenoir-Morganton Metropolitan Statistical Area. Despite the many reasons why residents choose to live in our area, pests are still a major threat to both home and business owners alike.
When it comes to keeping your Hiddenite property free of destructive and dangerous pests, you can't go wrong with a little help from the professionals here at Lake Norman Pest Control. We have a deep understanding of area pests and how to keep them away from your property. With our skilled technicians by your side, you can rest assured that your Hiddenite home or business will remain free of pests throughout every season. If you're ready to say goodbye to cockroaches in your kitchen and bed bugs in your bedrooms, reach out to Lake Norman Pest Control today.
Home Pest Control In Hiddenite, NC
Every Hiddenite homeowner deserves to feel relaxed and comfortable in their home. But when pests invade your residential property and threaten the health of your family, they make your home an uncomfortable place to live. Give your home and family the complete protection they need by partnering with the professionals here at Lake Norman Pest Control to implement long-lasting home pest control solutions. Our residential pest control services are designed to eliminate current pest problems and prevent new ones from occurring in the future. If you're tired of dealing with destructive and disease-ridden pests in your Hiddenite home, the technicians at Lake Norman Pest Control can help. Give us a call today to find out how we keep residential properties pest-free all year long.
Hiddenite's Helpful Guide To Bed Bugs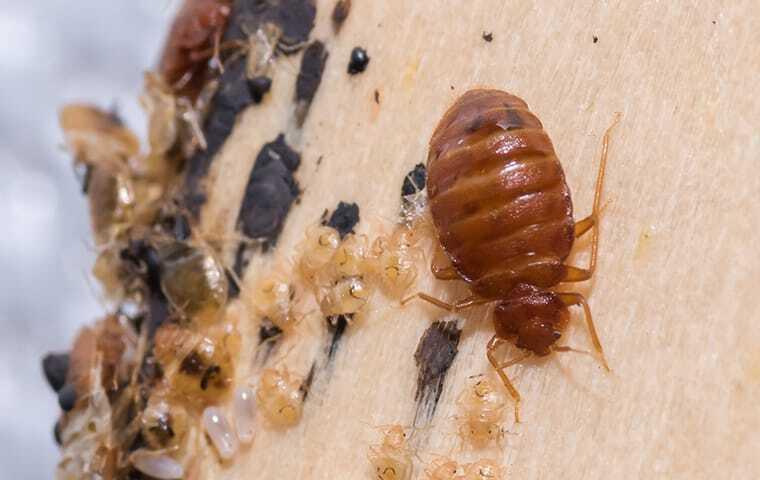 Bed bugs are one of the most difficult pests to identify, control, and prevent. They are common blood-feeding pests that live in human environments. These small insects travel from one location to another by hitching rides on the bags and belongings of unknowing individuals and will infest any property they end up in. Unfortunately, once bed bugs infest your Hiddenite home, it's nearly impossible to remove them without professional help.
If bed bugs are living in your home or business, here are a few ways you can identify their presence:
Bed bugs themselves, which are small, flat pests with reddish-brown bodies

Small spots of bed bug fecal matter on your mattresses, sheets, and bedding

Unexplained bug bites on your skin, arranged in a pattern of rows or clusters

Tiny white bed bug eggs, no larger than the size of a pinhead

Reddish-brown bloodstains on your blankets, clothing, and pillowcases

A strong musty odor that smells similar to coriander
Over the past two decades, bed bugs have become a major problem for property owners throughout the United States. To rid your Hiddenite property of these blood-feeding pests, don't hesitate to partner with the professionals at Lake Norman Pest Control today.
We are committed to providing excellent solutions for all kinds of pest problems, including bed bugs. Reach out to us today for more details about our bed bug elimination process.
Professional Lawn Care Services In Hiddenite, NC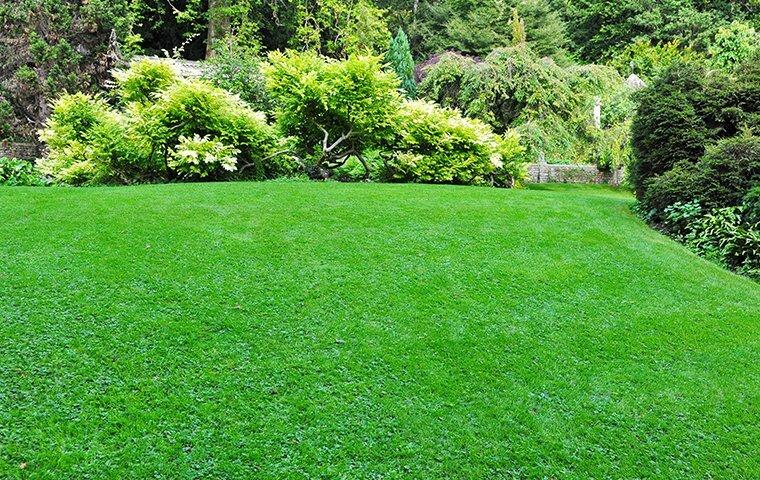 There's something so satisfying about walking outside to see a beautiful, fresh lawn surrounding your Hiddenite home. Unfortunately, maintaining an outstanding lawn takes a lot of time and commitment, which is difficult to keep up with between your normal work schedule and social events.
At Lake Norman Pest Control, we're proud to take care of your lawn care needs so that you don't have to. Our professional lawn care specialists are highly-trained to provide the following lawn care services to ensure your lawn looks as healthy and robust as ever:
Ornamental bed pre-emergent weed control

Herbicidal edging

Aeration

Overseeding

Fungicide

Lawn/turf dying

Pest elimination

Fertilization

Lime application

Pre-emergents

Weed control

And more!
Our lawn care services are designed to give your lawn the nutrients it needs to grow healthy, green grass. Get in touch with Lake Norman Pest Control today to learn more about all of our lawn care solutions.
Commercial Pest Control In Hiddenite, NC
When you own a business, it's your responsibility to keep it free of unwanted pests. Unfortunately, between keeping your customers satisfied and taking care of the other needs of your business, you might not have time to deal with a pest infestation. At Lake Norman Pest Control, we're ready to provide excellent commercial pest control services that will keep your Hiddenite business free of pests year-round. No matter what type of business you own, we have what it takes to protect it from the area's toughest pests. Our dedicated pest professionals have the experience and commitment needed to tackle pest problems of any size. Don't wait for pests to invade your Hiddenite business and threaten your reputation. Instead, turn to Lake Norman Pest Control for comprehensive commercial pest control solutions you can depend on.